Shared Bedroom
Style Ideas
Deciding how to decorating a shared room for kids can be tricky, especially if you have children of the opposite sex or who have very different tastes. But you don't need to resort to painting the room half blue and half pink. Here, we offer style tips for decorating a shared bedroom.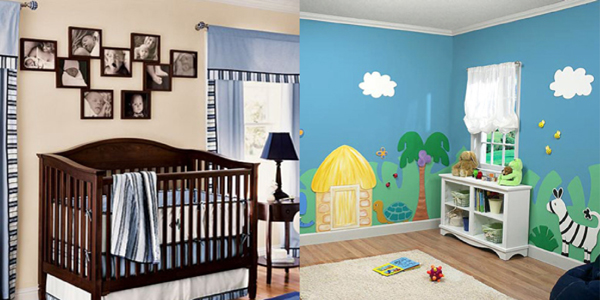 It is possible to decorate a nursery for baby without resorting to only green and yellow. Think in terms of stylish neutrals and muted colours. Browns, khakis, creams and tan are all soft and sophisticated when mixed together, and will work well for both boys and girls.
Themes
There are many great themes that work just as well for both boys and girls, and they can all be done in muted tones that don't yell girl's room or boy's room:
Jungle
This look can be gender-neutral by using muted colours inspired by the jungle [greens, creams, khakis, browns, yellows] with some flashes of brighter colours as accents. Try using understated and sophisticated wall decals that will help you to complete the jungle look without turning totally wild.
Moons and stars
When considering a nursery theme for a girl or boy room, look to the heavens -- literally! A sky theme is a perfect way to decorate a different-sex bedroom. Moon and stars create a sophisticated yet soft theme for your nursery.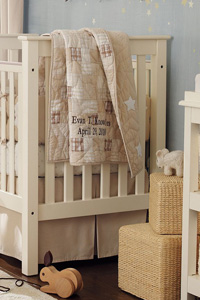 Seascape
Oceanscape is a great gender-neutral theme, not only because the potential pattern, style and colour combinations [bolder or brighter tones vs. pastels, for example] are almost endless. Of course, blue is going to be a central colour here, but an sea-themed room doesn't have to mean a boy room. Mix fun, lively colours such as orange, pink and yellow in the coral, fish and sea life to give this theme a gentler look.
Patterns
Select a pattern, then use it in one colour for your daughter and another for your son. For example, instead of opting for a theme, go for dots, stripes or a mixture of both that can be designed in either a funky or fun or a more subdued pattern. Imagine small, similarly-sized dots for a sophisticated room, while dots of varying colours and larger sizes can add some fun to the walls.
Furniture
Today, most nursery and childhood furniture will work in either a boy's or a girl's room. Select a style without ornate details in a simple wood finish to complement different décors as your children get older.
Expression
Older children will have definite opinions on how they want their room to look. Allow them to have a little free reign to decorate... Notice we said a little! Allow each child to have their own space within the shared room which can be decorated however they wish, and give them little freedoms of expression, such as choosing fun pulls for drawers or picking their own pillows. But keep to the overall theme with bedding and furniture, coordinated items to keep the room tied together.
More nursery tips: