Is Beauty Really Skin Deep?
None of us want to speed up the process of aging, and we all want to protect our skin as best we can from harsh weather and the ravages of day-to-day living. But with so many products to choose from, many of us are left asking whether spending money on a separate night cream from the moisturiser that we use during the day is essential or just a marketing ploy? What is the difference between the two and do we all need one?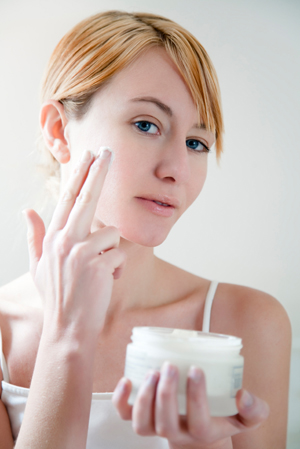 Night cream 101
The simple answer? "It depends," says dermatologist Livvy Allum. "Different skin types require different products and our skin's needs change in differing environments.
Night creams often contain higher levels of ingredients such as retinol and vitamin C, which helps boost skin repair as well as moisturising it. We've all heard of beauty sleep: well this is it in a nutshell.
While day creams tend to focus on protection from UV light, pollution and hydration, acting as a sort of protective barrier from external elements, night cream focuses on repair."
Day or night?
Whilst you wouldn't do your skin any harm by wearing day cream at night and vice versa, you obviously don't need an SPF when the sun goes down.
Also, some of those active regenerating ingredients can either be broken down by UV and rendered ineffective or can make your skin more sensitive in the sun.
"It's really important to know your skin type when deciding on night creams," Allum says. "Oily skins can get away without using a separate night cream, while drier types definitely need a separate cream because their skin will desperately need additional moisture after the harsh effects of a day outdoors travelling to and from work, or even just sitting at home in front of a movie."
Beauty journalists all over the world are furiously tweeting about serums at the moment, though many have been on the market for a while. Not only are these concentrated little solutions supposed to offer even greater anti-aging care, they are also really excellent options for boosting skin's moisture levels when worn under cream at night.
Our Night Cream picks
The market is flooded but herein is our selection of the latest and greatest night creams on the market.
1. Lancome Genifique Repair SC Youth Activating Night Cream, £50.50 RRP
Selling an average of seven pots a second, this night cream is flying off shelves and for good reason. The fresh texture is enriched with the smoothing active ingredients. Carrying floral notes of rose and orange blossom, it helps to promote a truly revitalising night's sleep.
2. Clarins Vital Light Night, £59
Made with a day cream to match and launched in June of this year, Clarins Vital Light Night uses extracts from "pioneer plants" to fully restore skins' elasticity and repair damage.
3. L'Oreal's Derma Genesis Night, £19.99

This very reasonably priced intensive night cream is designed to be applied before bed, when skin is less exposed to nasty environmental factors, enabling it to repair and regenerate to its fullest.
Whether you choose day or night cream, anti-aging or moisturising, Allum has given the basics on how important it is for our skin -- which is why we dubbed it an overnight essential. It can only help our skin, so why not?
More tips For looking flawless:
More From SheKnows Explorer