Flatter Yourself
Every woman should have a few staple items in her wardrobe that are fail-safe flatterers — among them a black velvet blazer, crisp white blouse and a perfect pair of jeans. These are clothes that look great on every figure, even on those days when you feel a little bloated, tired or blah.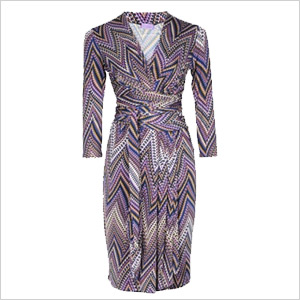 The wraparound dress
Diane von Furstenberg first created the concept of this timeless classic. A wraparound dress, whether in a print or a solid, works on any figure and for any occasion. The style emphasises cleavage and shows off even the straightest waistline. Wear this dress with a jacket or alone and complete the look with boots to the knee, a slipper shoe or heel. Popular designers such as Issa and Monsoon make lovely examples. Check out this Liz Price wraparound classic (£95) inspired by the Duchess of Cambridge.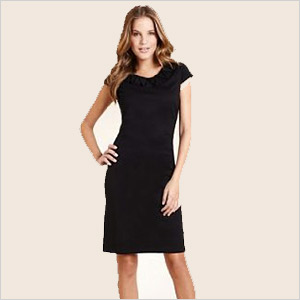 The A-line dress
The A-line dress balances the figure and gives anyone the perfect hourglass shape. If you hesitate to wear a dress because you think your thighs are too big, this is the dress for you. Are you self-conscious about being top-heavy? This dress conceals the girls and gives you a more proportioned look. Here's one that you will absolutely love: the M & S Pleated Neckline A-Line Dress in timeless black (£35).
7 For all Mankind Jeans
Every woman should own a pair of these jeans, which are available in short, regular and long. They look great whether you have too little shape or too much and they flatter any bottom. Choose a skinny or slim-fit pair with stylish pockets to be right on trend and finish the look with a crisp white blouse. We like the bootcut in Midnight Miami for £180. The 7 For all Mankind Jean is one investment you will not regret.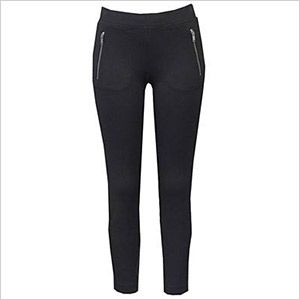 Leggings
Leggings are another piece of clothing that look great on every shape. Layer these extremely versatile fashion essentials with shorts or a skirt or wear them alone. Pair them up with some biker boots and a long jumper and no one will know if "baby got back." Ultra comfortable and totally trendy, you'll find them in colours such as black, taupe and dark grey this season. Finish the look with some leg warmers. Check out DKNY's black leather leggings with side zips. At £205 they are bang on trend and fabulous.
Scarf with a boyfriend blazer
Black velvet, brown corduroy, perhaps a deep burgundy... whatever colour you prefer, make sure you have a blazer handy to throw on with a pair of jeans or as a last-minute coverup for a dress. Try going vintage. At the moment, I'm wearing an original St Michaels of London 1970s black velvet blazer — another classic piece that looks good both pre- and post-baby. If your man looks more laid back in an oversized cable knit cardy — even better. These are very hot right now. Accessorise with an oversized scarf from French Connection.
More fashion & style
Find the best jeans for your body type
5 tips for looking good on a budget
How to dress for your body shape
More From SheKnows Explorer