What to wear at the Summer Games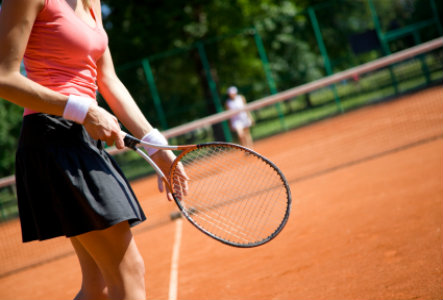 Shops have gone Olympic crazy, so whether you want to look patriotic in the Union Jack or practical, in case it rains, one of these looks will be perfect for you.
Look good at the summer games
Here is the ultimate guide to London 2012 fashion so you can plan ahead and make sure your wardrobe is ready for this historic event.
Tennis skirts
Every year tennis gear becomes very fashionable during Wimbledon but, thanks to the matches taking place there for London 2012, it is more popular than ever. Tennis skirts, or at least variations of them, are all over the high street in the typical gym-slip style you may remember from dreaded PE lessons at school. Although they are mainly white, other pastel colours can be found including baby-pink and blue, yellows and greens.
Running Shorts
Although these shorts are named running shorts, there is no need to enrol in a 10 kilometre marathon before buying them. They take their name from the shorts athletes wore in the '70s and '80s and have been abundant on the catwalk this season. Stella McCartney has taken the style to heart, feminising it with pretty, girly, floral patterns. These are perfect for the Summer Games if you are confident about showing off your legs and the sun is shining – fingers crossed!
Sporty bomber jackets
With the top athletes all sporting zip-up bomber jackets for this year's games, the high street has cottoned on and they are filling the stores fast. The major sportswear outlets have upped their stock to reflect increased demand and retailers who would not normally stock the style have made an exception. Styles come in the original jersey fabric but are also available in leather. They look good with bright colours such as greens, yellows and blues and can be dressed up with jeans or worn casually with sweatpants or gym wear. They are practical as well as versatile and if you are planning to watch the Olympics in London, you will fit right in.
High-wedged trainers
The biggest fashion crime of the '90s, thanks to the Spice Girls, is back to see another day, as designers have added a heel to the popular pump style. The flat version has been fashionable for a while now, but the high street has taken it to another level, perfect for ladies who opt for a sporty outfit with either a tennis skirt or shorts. Some manufacturers are even making high-heeled trainers for sporty fashion followers.
Accessorise
If any of the above pieces don't take your fancy, you can always dress more subtly for the Summer Games and simply accessorise. The best way to do this is to wear a belt or shoes or carry a handbag in the Olympic colours (as found on the rings) or to treat yourself to the wide range of Olympic jewellery available on the high street. Many items have the Olympic logo on them or come in the style of a medal. They will make a great addition to your wardrobe, especially if you are lucky enough to be going to the games in person. Alternatively, if you want to be patriotic, there is a wide range of Union Jack accessories to choose from.
more on fashion trends
The worst fashion trends ever
Top five summer fashion trends
How to dress like Kate Middleton
More From SheKnows Explorer