How To Get The Perfect Smokey Eye In Summer
When it comes to make-up that means business on the dating scene, there's no easier win than the smokey eye. Sure it gets attention, but it also makes clear your intentions. Can you pull off a smokey eye in the harsh light of summer? Professional make-up artist Thom Ticklemouse clues us in on professional tips and products to make a statement in the sexiest season.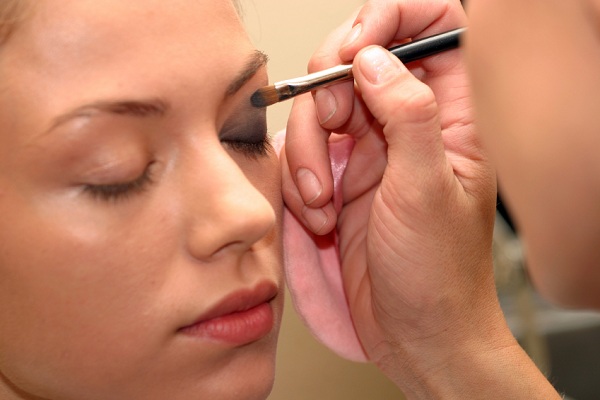 Some say we women are still operating in a world where we are more aware of being looked at than of doing the looking. But we know better. We're out in the world, our heads are held high, our eyes are wide open and we are perfectly able to lock them onto the object of our attention. The look. The second look. Holding it just long enough to let someone know you're interested (but not so long that it freaks them out). It's the optical serve and volley that makes single scouting so much fun.
And that's just one reason it's so important to line those lids and put your eyes on a pedestal. A woman who highlights her own seeing eye sends an empowered signal to the man caught in her path of vision. She's letting him know the game is on. Nothing makes this statement clearer than a smokey eye: the hallmark of a siren from Cleopatra to Sophia Loren to Penelope Cruz.
The new black
In summer, when days are long and the light less friendly, how do we work a smokey eye without looking overdone? Professional make-up artist Thom Ticklemouse says, "Just because it's smokey, doesn't mean it has to be black. Dark blue or a dove grey colour can look really beautiful." He advises using a feathery grey, like MAC's Scene or Print (both £12), on the whole lid and completing the look with a lot of black mascara.
Bronze beauty
The best tip, says Ticklemouse, is bronze. "Everyone wants to look sexy and sunkissed in summer. Bronze is the best way to go whether on the beach or in the bar."
Ticklemouse advises using MAC pencil in Teddy (£14) to draw a thick line above the lash line. As it is a soft kohl pencil, you can blend it with your fingers — but don't use sparingly. Run the pencil generously over your lid a few times and use your index finger to pat it out and blend it upwards. Then add that smokey darkness with a lot of black — or a very deep brown — mascara. "It's a nice way to get intensity but without a lot of make-up."
This look can be easily amplified for evening, too, by bringing the bronze underneath the eye and lining the waterline (the inner lid, near the tear duct) with black pencil.
Lighten it up
Since it's summertime, we don't just lighten our palette, but also our load. Ticklemouse wants to make our make-up versatile and easy for those weekend breaks and beach holidays, so he recommends products that travel well and have multiple uses. Copperplate shadow from MAC (also £12) is not only a good neutral, but works well on blonde brows. New line Ellis Faas, carried at Liberty, can be used on eyes to cheeks to lips and makes for perfect travel products. Finally, he raves about Chanel's compact version of their famous Vitalumiere Aqua foundation (£39 from Boots). "Its has SPF 15, glides on the skin and feels so cooling. It really is an incredible premium product." In its compact form, it's also easy to carry and has a mirror for those all important touch ups. Or, in our case, those surreptitious sidelong glances with those smoked-up summer eyes.
More Summer Beauty
Injecting neon colour into your make up bag
Give your makeup bag a spring clean
The best beauty products to splurge on