Should You Play The Role Of The Funny Girl?
Men love to laugh and be laughed at. So what happens when you steal the spotlight? Do men like their women funny?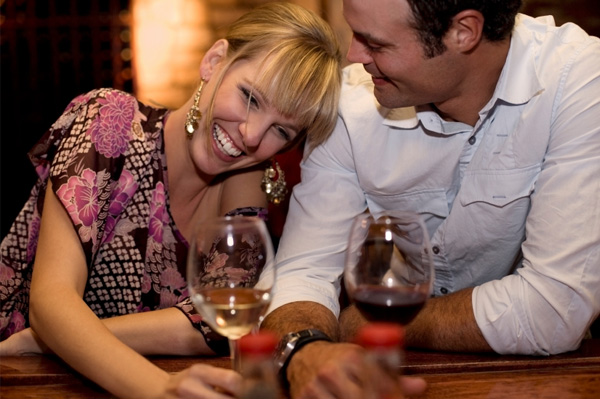 A controversial study in May kicked off a frenzy of debates among male and female columnists on the subject of female humour. The study? An examination by linguist Dr. Judith Baxter of whether women are as funny as men in the workplace. Alas, the research found we were not deemed to be... but we were hardly shocked when the results were met with outcry. After all, our lives are filled with funny women — whether on the telly, on cinema screens or, naturally, down at the pub.
So if we're so certain that we can compete with a man in the humour stakes, what happens when we win?
Well, for starters, we laugh. Obviously.
Then he starts to pay attention; he gets that glint in his eye. He's starting to like you because men love to laugh. What could be better than finding a comedic partner in crime? When they quote funny movies, they want you to know the reference. When they tell jokes, they want you to get them.
And you do — so it's looking good so far… right?
Not necessarily. A sense of humour often exists with other personality traits that have implications for how you are perceived as a prospect or partner. So now it's time for some straight talk about funny.
Ego
Does being funny mean you're an egomaniac? No — but you're no shrinking violet either. While you may not actively seek the spotlight, you likely won't step out of it if it should find you.
Why is this a problem? Because in matters of love, two people can't always share the stage. A comedy team needs a straight man. Who gets to be the star? Even if you're funnier, only you know which arrangement works best for him and, more importantly, you.
Seeking an audience
If a joke is told in a forest and there's no one around to hear it, is it still funny? We didn't think so. A comedian needs an audience, and if that audience isn't responsive or heckles, the talent gets angry.
This means that if you're funny, you need to live by that golden rule. Be as responsive as you hope people will be to you. And throw a dog a bone every now and then — feed him a line!
Intelligence
The most important thing about humour, especially humour in women, is that it puts a stake in the ground. Funny people are generally clever, and clever people, no matter how silly, must be taken seriously. If you were a bachelor looking for something fleeting, would you take home the jokester — the one with a comeback for everything — or would you take your chances with a quiet, more applauding sort of woman? Think about it.
Are we suggesting that you stifle your sense of humour in pursuit of single men? Just the opposite. Use that stake in the ground as a divining rod to help you make some decisions.
If you meet a man who is intimidated because you are funnier, keep searching for your man. If you find someone who seems like a bit of a humourless hack, then look for someone sharp and appreciative. And if you encounter a player who doesn't have the time to take you on, keep shopping for someone with a longer run in mind.
And always, no matter what, make sure he knows the best bits from Anchorman.
More dating tips
You don't have to do the walk of shame
Anti-wing men
In the dating game, it's a question of sport