The unspoken language of symbols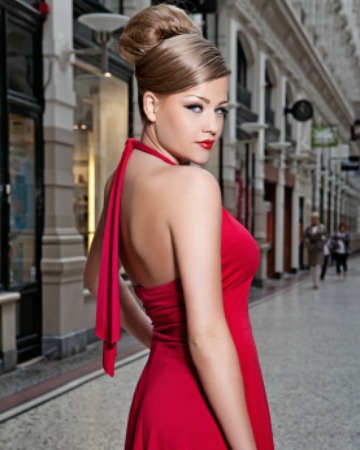 What your clothes are saying
From high heels to the colour red, from snakey chains to the crosses around our neck, what we wear is symbolic and sends messages to potential suitors.
What do our choices say about us? Which attract men, which repel them – and why?
There are all sorts of ways to communicate to men without speaking — with our body language, eye contact or what we wear. And while they might not always consciously receive the signals we send with our dress sense, there's no question that wardrobe choices influence how we're characterised. For example, a woman wearing ribbons and bows may seem childlike, a woman in white appears virginal, and a classic vamp might wear animal prints and skins.
Playing with these symbols is not just a fun way to shape-shift, but also allows us to control the impression we leave on men. To guide your experimentation, get a better understanding of the deep meaning behind some of the most common symbols.
The colour red
In books and movies, a wanton or mysterious woman is the one who walks into a room in red. Why does it capture our attention? Primarily because it's supposed to. Through nature, we've been conditioned to notice red temptations, whether succulent berries, beautiful blooms or signs of venomous and dangerous animals. Then of course, there's connotations of our blood and the energy of our very life force. Want to make that energy work for you? Play the part of a femme fatale in red.
High heels
You might not immediately see a heel as a symbol, but it holds power for women and men. As children clamouring for the dress up box, we chose heels as a mark of adulthood, also recognising latent sexuality. Freudians also believe that male children see a heel as the gateway to sex, simply because a child is at eye level. If his eye follows that stocking seam, it arrives at a forbidden place. So there you have it — the symbolic power of the heel.
Crosses
On a more wholesome note, we present you with the cross. You don't need to be a professor of symbols to know this is all about faith and devotion. If, however, you think a cross will deter his advances, think again. Men may see it as a challenge. Consider Virginia in Billy Joel's song "Only the Good Die Young" and prepare to get into defence mode.
Snakes
Speaking of dying young, serpentine symbols are undeniably potent, due to the element of poison and as a phallic cue. Ever since that serpent tempted Eve, we've associated snakes with sex and sin, so it's no surprise that a snakey form turns a man's head. Snakes aren't all bad news, though. In art through the ages, they can be portrayed as protectors of sacred spaces, and their circular form and ability to shed and regrow skin signals rebirth and eternal life.
So don't be afraid — embrace the snake. The courage of a women who does might just intrigue a man, but if she's a bit too snakey, he might get scared. Who wouldn't?
Spiders
As underworld and Gothic tones pervade popular culture, it's not uncommon to see women wearing spidery accessories. Like the snake, spiders show some dualities that may attract our own prey: men.
Spiders do share many traits with vampires (they can perforate our skin like a hole puncher and "suck" out our life force), but they also garner respect for their creativity and ability to weave pieces together.
We purposefully closed with these venomous creatures for a reason. Aren't they just a handy little parallel for how men see women: dangerous, plotting, but ultimately, fertile, complex and worth the risk?
More fashion that attracts men
Autumn-winter style with sex appeal
The big smoke -- for the eyes
On the beach, turn his head your way -- not away