Upping our sexual game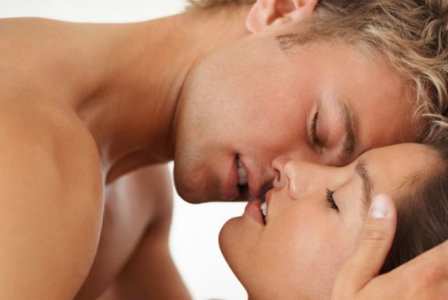 All the chatter about Fifty Shades of Grey shows we're certainly interested in upping our sexual game but has the bedroom become another place where women worry they aren't doing enough?
Is pop culture making us try too hard in bed?
How do we experiment, still feel in control and manage to have a laugh?
Men on their morning commute must be having the time of their lives watching us, all wide-eyed, devouring Fifty Shades of Grey. They are no doubt wondering what new tricks we'll bring to the bedroom now that BDSM has come out of the shadows. And let's face it, many of us are wondering if we can incorporate some of these tricks, too. We're all talking about sex, baby.
As once taboo subjects become mainstream, many women may wonder if they have what it takes when it comes to adventurous sex. We're already expected to "have it all." Is the bedroom the next place where we expect perfection?
If the answer is yes, then what's the best way to achieve balance. The following tips work both in and out of the bedroom.
Try new things with someone you trust
New lovers are not always the best audience for your first attempt at a sexual trick. As much as the flush of new love may make you feel sexy and experimental, wait until you are completely comfortable before you break out the mask and handcuffs. Remember that you are revealing thoughts and potentially relinquishing control. This can leave you vulnerable so make sure he's worthy.
Know your limits
If there are certain things you will not do, find your voice and make sure your boundaries are known from the outset. A healthy, respectful sexual relationship can build your overall confidence and well-being for days to come. On the other hand a destructive, disrespectful experience can undo you for years.
Laugh
Sex is natural, beautiful, romantic, loving... and, often, hilarious. We try things and fail; we make funny noises; we probably look a lot less hot than we think. So let's not take ourselves so seriously. Laugh if the situation warrants it — but be sure this is a "with you not at you" situation.
Believe in yourself
Remember that being good in bed is not necessarily about how many positions you try and how many boundaries you push. Whilst these things will certainly tick the boxes of some lovers out there, trying too hard can make you look like, well, a try-hard. The universal must-haves are fun, confidence, acceptance, and — whether men say they hate cuddling or not — closeness. Bring those before you try too hard to bring your A game and then see what else follows.
More sex and relationships
Put the spark back in your relationship
Sex games just in time for Valentine's Day
Spice up your sex life