Fabulous fashion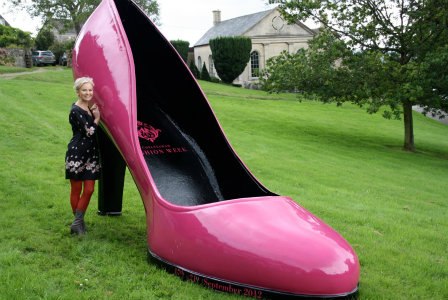 Paris, London and New York may be stealing the headlines with their spring-summer 2013 collections but they have a rival with the first ever Cheltenham Fashion Week. It may be a newcomer but it looks just as fabulous.
small and fabulous
So what is it?
The inaugural Cheltenham Fashion Week, affectionately known as CFW, will take place from Sept. 17-21 and is the brainchild of fashionista and Cotswold resident Sam Bawden. More than two years in the making, the week will feature inspirational talks from leading fashion icons and retailers, career seminars, student fashion shows and a "One Night Only" couture reception and dinner in aid of local charity Hop, Skip and Jump, which cares for special needs children.
The giant shoe
The symbol of CFW, a giant pink stiletto, has been on a tour of the Cotswolds to create publicity for the event and has certainly proved eye-catching. The local ATV network said: "The Giant Shoe Tour embodies the fun, creative and fashionable aspects of Cheltenham Fashion Week, and brings all these qualities and more as it appears at some of Cheltenham's most popular locations."
The student fashion show
Cheltenham Fashion Week also features a Student Education Show co-sponsored by George Davies, the designer behind Marks & Spencer label Per Una, George at Asda and Next. It will be held at Gloucestershire College on Sept. 18 and features work not only by graduates but also produced by students from local schools, some as young as seven.
Shop
On Sept. 20 from 10 a.m. to 6 p.m. the luxurious Cowley Manor hotel will be transformed into a designer shopping destination called "Boutique 24". Independent labels, not available on the British High Street, will create 24 mini pop-up boutiques in the hotel's sumptuous bedrooms while the ground floor will play host to styling workshops. The boutiques include a scent bar for Jo Malone's newly launched "Jo Loves" fragance collection and a pop-up version of my-wardrobe.com's online store. The global retailer is one of the co-sponsors of the event and during the day there will also be the opportunity to attend two talks by its founder, Sarah Curran. Tickets for "Boutique 24" are £12.50 when pre-purchased or £17.50 on the door and can be bought through the CFW website.
For more details log on to the website or follow the official behind-the-scenes blog.
More on fashion week
Prince Charles launches London's first men's fashion week
London fashion week 2012: the inside scoop
Stars attend Stella McCartney London fashion week party
More From SheKnows Explorer