Famous Musical To Become A Film In 2012
One of the worlds most loved musicals, Les Miserables, is getting a new look in the form of a major motion picture starting two of the most popular actors Anne Hathaway and Hugh Jackman.
From stage to film
On December 7, 2012 the world will be witness to another great musical that has been made into a great film. Les Miserables will hit theaters in time for Christmas and will be staring two very popular actors. Anne Hathaway will be playing the prostitute Fantine and Hugh Jackman will be playing the fugitive Jean Valjean. The play is directed by the genius who is responsible for the Oscar winning movie, The King's Speech.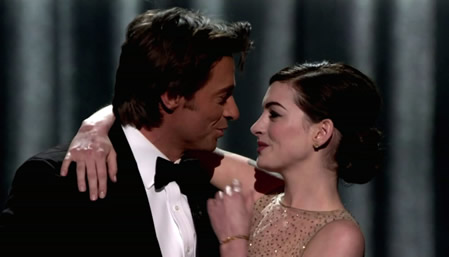 This will not be Anne Hathaway's first experience with Les Miserables as she did a parody of one of the hit songs, "On My Own", during the Academy Awards in February. Coincidentally her rendition was directed towards Hugh Jackman. The year prior, when Hugh Jackman hosted the award show, the pair did a duet together. Their chemistry on stage should translate to a well acted and successful movie.
The screen play for Les Miserables was written by Gladiator writer William Nicholson. The producer of the musical, Sir Cameron Mackintosh, will produce the big screen version.
Les Miserables will follow in the footsteps of other well known Broadway musicals turned movies including The Phantom of the Opera, Chicago and Hairspray. How do you think it will compare to those stage to film versions?
More on Anne Hathaway in Les Miserables
Anne Hathaway starring in Les Miserables
Colin Firth and The King's Speech win Oscar gold
More From SheKnows Explorer