Rocker Plays With E Street Band In England
Bruce Springsteen is back and touring again with the famous E Street Band in 2012 starting with four appearances in England between May and July.
The great Bruce Springsteen
If you grew up in the 70's, 80's or 90's then you knew who Bruce Springsteen was. The musician, born in 1949, started making a name for himself in the mid-70's before finally hitting it big a decade later. Now, almost four decades later, the rocker is starting another tour with the E Street Band in England. While the tour will also travel to the US, no dates have been announced yet.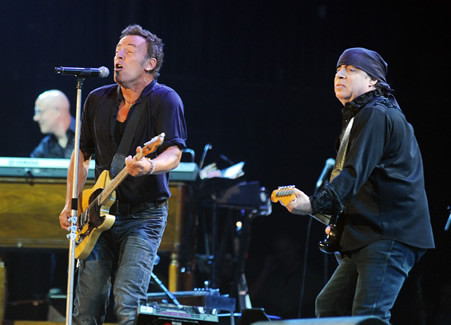 In the summer of 2012 Bruce Springsteen and the E Street Band will make an appearance in four locations in England. The dates and locations at this time include June 21 in Sunderland; June 22 in Manchester; June 24 at the Isle of Wight festival; and July 14 at Hard Rock Calling in London. Since the entire European tour will run from mid-May through the end of July, fans throughout Europe will have more chances, in other areas, to see him as well.
Death will not stop them
In June of 2011 original E Street Band member and saxophonist Clarence Clemons died suddenly after complications from a stroke. This new tour will be the first time the band has played at this level together without him. After Clarence Clemons death, the bands guitar player, Steve Van Zandt, wrote, "We will continue to make music and perform. Let's face it, that's all we really know how to do. But it will be very different without him."
Bruce Springsteen made that statement a fact on November 20, 2011 when he announced via his website and Facebook page, "A lot of you have been hearing that Bruce Springsteen and the E Street Band will be on tour in 2012. That is absolutely correct. The European dates run from the middle of May until end of July and are being announced this week. Info on the US dates and the World tour dates will be coming up shortly."
Four of those dates have in fact been announced! Will you be buying tickets to see Bruce Springsteen and the E Street Band play in a city near you?
Photo courtesy of: WENN.com
More on Bruce Springsteen