Brits Win Big At Golden Globe Awards
The British invasion of Hollywood continued with last night's Golden Globe Awards. The ceremony was presented by Ricky Gervais, and winners included Kate Winslet, Idris Elba and even the super-British TV series Downtown Abbey!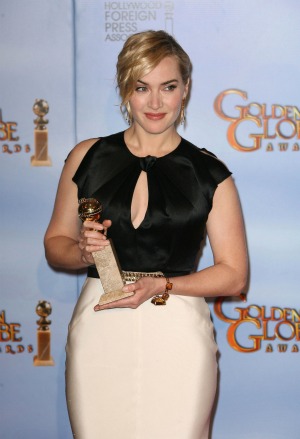 The Golden Globe awards, which took place in Beverly Hills last night, are the first big film award show of the season and a good indicator of who will do well at the upcoming Oscars and Bafta awards. The Office comedian Ricky Gervais reprised his role as host, once again attracting press attention for his cheeky remarks to some of Hollywood's biggest names, although some have criticised Gervais for choosing "easy targets" such as Kim Kardashian and Eddie Murphy.
It wasn't just the Golden Globes host that was a very British choice this year, but also several of the award winners. Although the top awards for Best Actor and Best Actress went to U.S. stars George Clooney and Meryl Streep, two of our most talented U.K. thespians were also recognised. Kate Winslet won Best Actress in a Mini-Series Or Motion Picture Made for Television for her part in the H.B.O. series Mildred Pierce, while Idris Elba won the male equivalent of the award for the BBC crime drama Luther.
Another British success story at last night's awards was Downton Abbey, the TV series created by English actor and writer Julian Fellowes and originally shown on ITV. The show is the most successful British costume drama since Brideshead Revisited in 1981, so it was no surprise to see its U.S. success made official with the presentation of the Best Mini-Series Or Motion Picture Made for Television award at the Golden Globes. The cast and crew of the show must now wait to see if their success will continue at the 2012 Emmys, where last year they came away with no less than six awards!
Image courtesy of WENN.com.
more award shows
George Clooney claims no Oscar rivalry with "buddy" Brad Pitt
Ed Sheeran and Jessie J lead 2012 Brit Award nominations
Rihanna ditches People's Choice Awards for NBA game
Martin Scorsese will be honoured at 2012 Bafta Film Awards
More From SheKnows Explorer