Ting Tings Ask Label To Rush-Release Album
It's every artist's worst nightmare: You spend three years perfecting your new album, only for it to leak online six weeks before its official release. This is what The Ting Tings are facing today, and the "That's Not My Name" group are now urging their record label, Columbia, to release the album Sounds From Nowheresville early.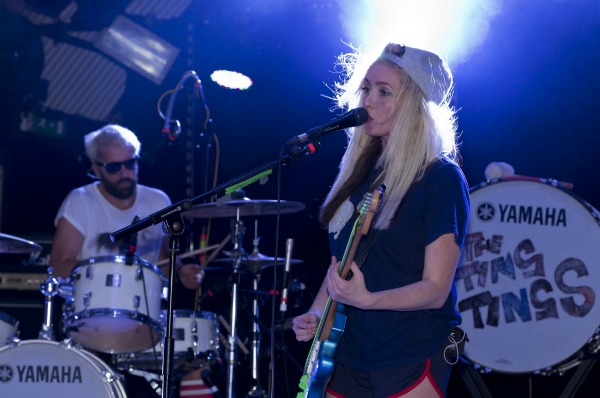 Mancunian electro-pop duo The Ting Tings became an overnight sensation in 2008 when their debut single "That's Not My Name" shot to No. 2 in the U.K. charts. They went on to have success around the world with songs such as "Shut Up and Let Me Go" and their debut album We Started Nothing. Since then they've been busy working on the follow-up album, entitled Sounds From Nowheresville, scheduled for release on Feb. 27.
The Ting Tings, also known as singer Katie White and musician Jules de Martino, have released two music videos to promote their new album, for the songs "Hang It Up" and "Silence." Although neither song had been a hit on the U.K. singles chart, there were still high hopes for the duo's second album after their debut sold more than two million copies worldwide. However, the sales of Sounds From Nowheresville will undoubtedly be affected by the leak of the new album six weeks before its official release.
Early album leaks have become so common in the past few years that many artists choose to ignore them, or see them as an opportunity to promote their music to those who might not be big enough fans to spend money on their songs. When Drake's album Take Care leaked in 2011, he tweeted, "Listen, enjoy it, buy it if you like it… and take care until next time." Similarly, Jules de Martino accepted the situation of his band's new release finding its way online, tweeting from the group's Twitter account, "We should be pissed & outraged but what good would it do?"
The Ting Tings are now urging their record label, Columbia, to make the album available legally for fans to download. De Martino tweeted last night, "Come on Columbia, let it go!!!" If the album is available to download legally on sites such as iTunes and Amazon, it makes it easier for fans to do the right thing, and makes the most of the buzz the album is getting as word spreads of its leak.
While the label may want to stick to releasing the album on the date they had so far been promoting, if they don't provide a legal option for impatient fans, there's no way to know how many sales could be lost, and what the consequences will be for the future of The Ting Tings.
Image courtesy of WENN.com.
more music news
Kelly Clarkson honours Etta James in song
Obama gets his groove on at the Apollo: Listen!
Adele is the queen of karaoke
Rihanna & Coldplay: An odd Grammy pairing