Harry And Ron Actors Aren't Real Life Friends
Harry Potter star Daniel Radcliffe has revealed that he's not close friends with Rupert Grint, the actor who played his character's best friend Ron Weasley in the Harry Potter films.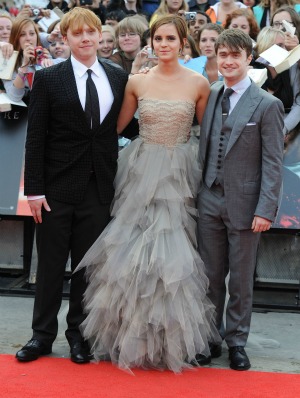 Fans of the Harry Potter movies may be saddened to learn that the actors who play best friends Harry Potter and Ron Weasley in the films are not great friends in real life. The final Harry Potter film was released in 2011, and lead actor Daniel Radcliffe, who played Harry, has revealed that, although he remains good friends with Emma Watson, who played Hermione in films, he's not so close with Ron Weasley actor Rupert Grint.
22-year-old Radcliffe told the Mirror that he and Rupert don't spend time together now that their work on the films has finished. "There's this idea that Emma, Rupert and myself are the best of friends who always hang out together. Emma and I text all the time but Rupert and I never text each other, we never see each other." It sounds like things may not have ended on the best of terms between the two lead actors, but luckily Radcliffe and Watson still get along well.
Since Harry Potter and the Deathly Hallows – Part 2 was released in July 2011, Daniel Radcliffe and Emma Watson have both been flooded with offers of acting work. Watson starred in the hit film My Week With Marilyn, while Radcliffe is about to appear in his first post-Potter film role in the supernatural thriller The Woman in Black. Rupert Grint, however, has not had such a presence in the public eye. His last acting role was playing Ed Sheeran's obsessive fan in the music video for "Lego House" – the first in what is sure to be a long line of red-headed roles for Grint!
Image courtesy of WENN.com.
more film stars
Kate Winslet and Downton Abbey among Golden Globe nominations
Is Angelina Jolie done with acting?
Exclusive: Katherine Heigl stalks her ex in One for the Money
Megan Fox could outfox Lindsay Lohan for Liz Taylor role
More From SheKnows Explorer