McCartney Pays Tribute To Whitney
Paul McCartney and his wife Nancy Shevell were among the celebrities who paid tribute to the late Whitney Houston at a memorial outside the Beverley Hills hotel where she died.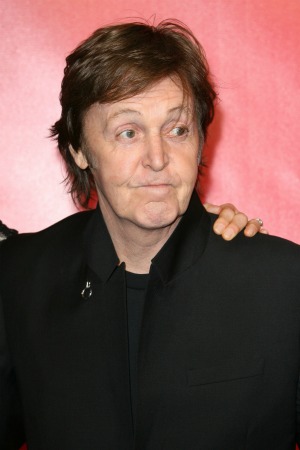 As the world comes to terms with the loss of a music icon, many other stars have visited the hotel where Whitney Houston died this weekend in Beverly Hills to pay tribute to the "I Wanna Dance With Somebody" singer. While rumours circulate in the celebrity press about the cause of Whitney's death, the music world has focused on the classic hit records she released, her incredible vocals and her impressive stage presence.
Fans and friends of Houston have visited the hotel in Beverly Hills where she died, including many big names in music. Paul McCartney, who was in L.A. to perform at the Grammys and celebrate his star on the Hollywood Walk of Fame, visited the memorial with his wife Nancy Shevell. According to onlookers, the former Beatle brought a small bouquet of yellow flowers, blew a kiss to the memorial and said a few words in memory of the American singer before leaving.
Other stars who have paid tribute to Whitney Houston include Jennifer Hudson, who sang a cover of the song "I Will Always Love You" at Sunday night's Grammy Awards, and said it was "the greatest honour of my life." Dolly Parton, who originally recorded the song, said she was brought to tears by Hudson's performance and wanted to send Whitney the message, "We will always love you."
Image courtesy of Adriana M. Barraza/WENN.com.
more music star deaths
Nick Carter a no-show at his sister's funeral
Amy Winehouse coroner resigns in scandal
Cher not dead, no need to turn back time
Blues icon Etta James dead at 73