British Starlets Meet Up In Los Angeles
Singers Tulisa Contostavlos and The Saturdays met up for a U.K. pop reunion in L.A. this week and had dinner with an American friend, rap star Flo Rida.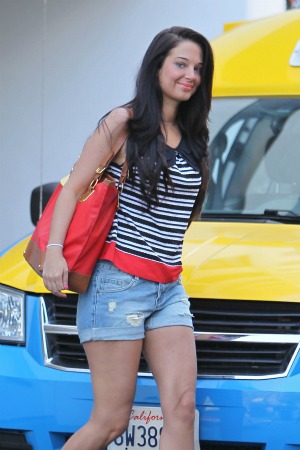 While N-Dubz singer Tulisa Contostavlos has been in L.A. recording her debut solo album, she's been keeping herself in touch with what's going on in the U.K. by hanging out with some of her fellow British music stars. A few weeks ago she was partying with Jessie J at a pre-Grammys bash, and now she's been sharing dinner with girlband The Saturdays. The girls invited their mate Flo Rida along for the meal as well!
The Saturdays have been in Los Angeles for business meetings this week as they are hoping to follow other U.K. pop acts The Wanted and One Direction and release their music for the American market. There are even rumours that the girls will be filming their own TV show documenting their attempt to break into the U.S. charts. The Saturdays previously visited L.A. to film the music video for their single "Higher," which featured a rap from "Good Feeling" star Flo Rida, so their dinner date with the rapper suggests another collaboration could be on the cards.
Tulisa and The Saturdays are an unexpected pairing, since the girlgroup makes pure pop music while Tulisa is more of an R&B diva. The girls do all share a love of shopping and partying, however, and they seem to have thoroughly enjoyed their Californian night out as they later tweeted photos from the evening and sent each other cheeky messages about their drunken antics!
Image courtesy of Michael Wright/WENN.com.
more brits in america
Paul McCartney among celebrities to visit Whitney memorial
Adele leads U.K. winners at 2012 Grammy Awards
Beckham to dress Gwyneth and Charlize for the Oscars
Julian Fellowes approached for big budget Downton Abbey movie