It's The Hottest Fashion Party Of The Year
Stella McCartney has set a very high standard for the celebrity parties of 2012 with her London Fashion Week party this weekend, which was attended by stars including Rihanna and Kate Moss.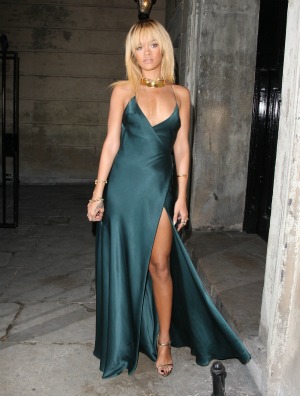 Fashion designer Stella McCartney's party to celebrate London Fashion Week was possibly the coolest place to be in the world this weekend, as the event was attended by some of the biggest names in fashion and music. At the head table Stella sat with her top model friend Kate Moss and pop superstar Rihanna (pictured arriving at the event), while influential fashionistas Alexa Chung and Yasmin Le Bon were also in attendance.
The night wasn't just about hobnobbing with the stars, however. Stella McCartney also used the opportunity to promote her new designs, seating a model in one of her dresses at each table. At one point during the night, all the models climbed up onto the tables to show off their outfits flashmob-style. The party guests were also entertained by a magic act, who got McCartney and Chung involved as their assistants. Alexa even found herself levitating above three daggers as part of the show – certainly a moment none of the shocked party-goers will forget any time soon!
Also making the gossip pages this weekend thanks to her appearance at London Fashion Week was Victoria Beckham, but not because of her designs. Instead, the singer-turned-designer's health was in question as she was pictured looking miserable, but explained that she was just very tired from working so hard on her new collection. Maybe it's time for the mother of four to take a little break before her next project?
Image courtesy of Lia Toby/WENN.com.
more from fashion week
Most outrageous street style at NYFW
Maria Menounos tries runway modelling at Pamella Roland
Fashion Week coat watch: Celebs stay warm in style
4 Celeb Fashion Week looks we're coveting
More From SheKnows Explorer