Peaches Poses For Pregnant Park Pics
Heavily pregnant TV star Peaches Geldof posted a photo on Twitter this weekend showing her huge baby bump, taken on a country walk with her fiancé Thomas Cohen.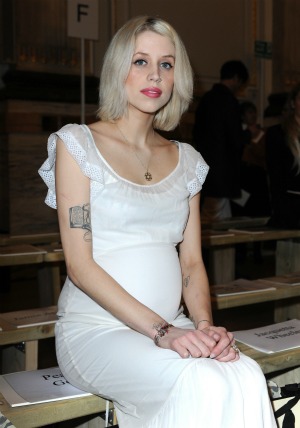 Now that they've got a baby on the way, party girl Peaches Geldof and her rocker boyfriend, Thomas Cohen, are practising for their new grown-up lifestyle. Rather than attending gigs, clubs or fashion shows, they spent their weekend hanging out in London's Victoria Park with their golden retriever. The fact that their dog is called Parpy suggests they're not growing up too fast, though!
Peaches, whose dad is Irish singer Bob Geldof, posted a photo of herself "pretending to be a duck" on her @peaches_g Twitter account. In the photo she is wearing a tight black dress and her duck pose accentuates the size of her baby bump. She looks like she could give birth at any moment, but in fact her baby is not due for another six weeks, on April 24.
Although Peaches Geldof is only 22, Thomas will be her second husband. She was previously married to American musician Max Drummer, a member of the band Chester French, when she was 19, but the couple separated after a few months. Hopefully her marriage to Cohen will last longer, as he will be the father of her first child.
The couple have revealed that the baby is a boy and they've already decided they are going to name him Astala Dylan Willow, a name even more unique than Peaches' own unusual moniker. Astala is a Finnish surname and a Latin word meaning "faded" or "navy." Perhaps navy is Peaches Geldof and Thomas Cohen's favourite colour, or they first bonded over a pair of faded jeans?
Image courtesy of Zak Hussein/WENN.com.
more celebrity baby news
What Snooki's babies would look like
Beyoncé and baby dine together in public
Ben Affleck and Jennifer Garner's boy's name is...
Minnie Driver's baby daddy finally revealed