Neve Campbell
Confirms Baby Rumours
Scream actress Neve Campbell has confirmed the rumours that she is expecting her first child with her British actor boyfriend, J. J. Feild.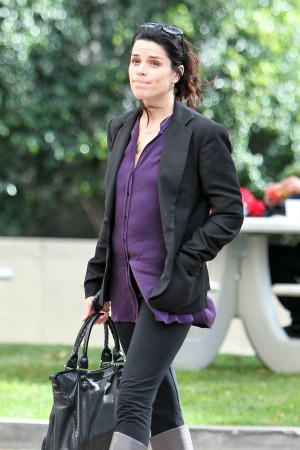 Fans began to suspect that Canadian TV and film actress Neve Campbell may be pregnant when she was spotted with a noticeable baby bump at a recent film premiere. Today the news has been confirmed by Neve's publicist that she and her boyfriend, J. J. Feild, are expecting a baby together.
38-year-old Campbell has been married twice before, to Canadian actor Jeff Colt and English actor John Light, but this will be her first child. Although Neve's spokesperson did not say when the baby is due, she did reveal that the couple are "thrilled" about the news. Although it has been rumoured since last summer that Campbell and Feild were dating, there had been no official confirmation of their relationship prior to the baby news.
Both Neve and J. J. (whose full name is John Joseph Feild) rose to fame as TV stars before going on to major movie roles. Neve was a hit in the TV series Party of Five in the 1990s, but is perhaps best remembered as Sidney in the Scream films. She is currently filming a new movie called Sworn of Silence, which hopefully either requires her to be pregnant or a little larger than usual!
J. J., who is five years Neve's junior, got his breakthrough role in the U.K. with the ITV adaptation of Northanger Abbey in 2007. This led to more TV drama roles, including The Night Watch and Agatha Christie's Miss Marple, and a part in the blockbuster movie Captain America: The First Avenger. With these two as parents it will be no surprise if their child has a talent for acting as well!
Image courtesy of Michael Wright/WENN.com.
more celebrity babies
Una Healy and Ben Foden welcome baby girl Aoife Belle
Pregnant Peaches Geldof shows off huge baby bump
Gary Barlow and wife Dawn expecting fourth child
Pete Doherty says he's getting clean for new baby
More From SheKnows Explorer