Konnie And Charlie
Are Parents
TV presenter Konnie Huq has given birth to her first child with journalist husband Charlie Brooker, a baby boy named Covey Brooker Huq.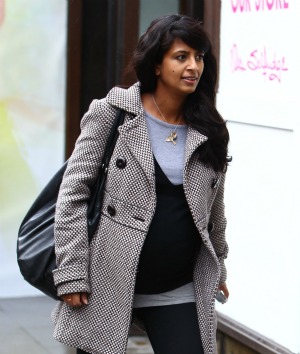 Former Blue Peter presenter Konnie Huq gave birth to her first child last night at a hospital in London. She and husband Charlie Brooker, famous for his newspaper columns and TV shows such as Screenwipe, have announced that the baby is a boy and they have named him Covey Brooker Huq.
Konnie's spokesperson revealed that the baby weighed 2.8 kilogrammes. Huq excitedly said in a statement released today, "We are chuffed to bits, he is absolutely gorgeous!!" Charlie hasn't yet made any public comments about the newborn, but did tweet to apologise for not being at The Guardian's Open Weekend event yesterday, blaming "the stork" for his absence.
The couple, who married in Las Vegas in 2010, are often seen at public events looking very happy together. However, Konnie Huq admitted in an interview recently that she has been "a bit of a hermit" during the last few months of her pregnancy.
Covey is an unusual choice of name, which is more common as a surname than a first name. It is derived from Middle English and bizarrely means "brood of birds." Maybe Konnie has become a keen bird-watcher while she's been out of the spotlight during her pregnancy?
Image courtesy of WENN.com.
more celebrity baby news
How Victoria Beckham got her body back after baby
Hilary Duff has a healthy baby boy!
Hugh Grant won't turn his kid into a "f**k up"
Charlize Theron puts her baby in a straitjacket