Angelina Is A
Huge Fan Of Kate
Oscar-winning actress Angelina Jolie wants to direct a film about the life of Kate Middleton because she is so fascinated by Great Britain's new princess.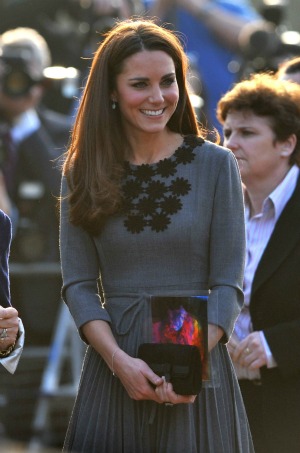 It seemed as if the whole world went royal family mad in 2011 with the wedding between Prince William and Kate Middleton, and Hollywood star Angelina Jolie was no exception. According to The Sun, Jolie is a big fan of the royal couple and even has a photo of them in the house where she lives with Brad Pitt.
The Changeling actress has been so impressed with Kate Middleton that she is reportedly planning to make a film about the new English princess. The story of a normal girl who becomes a princess is a fairytale that has been the subject of many hit movies, so Kate's life would be perfect for a film adaptation. Although a small budget film about Middleton's romance with Prince William was released in 2011, no major Hollywood movies have been made about the young couple so far.
However, William's grandmother, the Queen, has been the subject of many films and TV shows, having been played by actresses including Helen Mirren and Emma Thompson over the years. There is also a new film set to be released this year about Queen Elizabeth and her sister Margaret in their teenage years, but the actress playing Elizabeth is yet to be announced.
Image courtesy of Daniel Deme/WENN.com.
more on the royal family
Kate Middleton steps up to the microphone!
It's not easy being royalty, says Prince Harry
The royal family is mad at Kanye West
Pippa Middleton skis her famous butt off in Sweden
More From SheKnows Explorer