The Saturdays Star Explains Rehab Stint
In an interview with Glamour magazine, The Saturdays singer Frankie Sandford has opened up about her time in rehab last year, explaining that she was suffering from depression.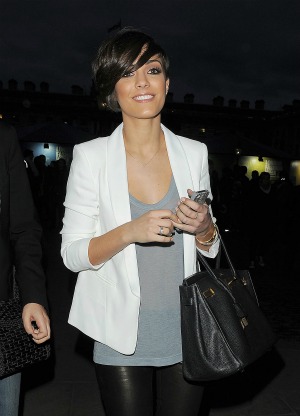 Frankie Sandford has revealed that her time spent in rehab last October was due to depression, the same reason that her ex-boyfriend Dougie Poynter from McFly went to rehab a year earlier. At the time there were rumours that the slim singer was suffering from an eating disorder, and the only information fans were given was that Frankie was dealing with an illness that she had suffered from for many years.
In a new interview, Sandford told Glamour magazine that she has experienced depression from the age of 15, when her first band S Club 8, who had several top 10 hits, were dropped from their label and she returned to normal life. Frankie Sandford said, "Every time I spoke to someone, I'd be thinking, 'They probably think I'm a horrible person. Am I boring them? Do I look ugly?'"
Frankie says she didn't confide in anyone about her anxiety until she started dating footballer Wayne Bridge. The singer revealed that she broke down while on a country walk with her famous boyfriend, and ran away from him crying hysterically. It was then that she decided to get help, and she says that her time in hospital "was the first time I felt I was among people who really understood me." Since returning to work, Frankie Sandford is trying to put less pressure on herself and says, "I feel like me again now."
Image courtesy of Will Alexander/WENN.com.
more celebs in rehab
Demi Moore leaves rehab for vacay
Demi Lovato reveals post-rehab relapse
Tatum O'Neal preempts rehab
Gerard Butler off the wagon & in rehab