Ozzy And Sharon
Are Grandparents!
Jack Osbourne and his fiancee Lisa Stelly have welcomed their first child, a baby girl named Pearl, making Jack's parents Ozzy and Sharon grandparents.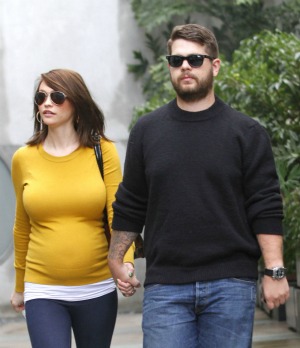 Jack Osbourne is best known as the tearaway son of Ozzy and Sharon Osbourne, so it's quite strange to think of him as a father himself. Jack struggled with drug and alcohol addiction in his younger years but it seems he has decided to settle down and become a family man, just as his rock star father did. His fiancee Lisa Stelly gave birth to their first daughter Pearl this week.
The news was exclusively broken by U.S. Hello! magazine editor Rosie Nixon on Twitter last night. She confirmed that baby Pearl had arrived safely, weighing in at 8 pounds 6 ounces. Jack's sister Kelly Osbourne soon chipped in to express her excitement at the news: "I am one proud auntie. Today has been one of the most amazing days of my life!"
The baby's arrival not only makes Kelly an aunt, but Jack's parents, Ozzy and Sharon, grandparents for the first time. Ozzy rose to fame as lead singer of heavy metal band Black Sabbath in the 1970s, but 30 years later he became a reality TV star along with the rest of his eccentric family in the MTV show The Osbournes. Ozzy's wife Sharon went on to be a judge on The X Factor, while daughter Kelly had a brief pop career and Jack has followed his mother to work behind the scenes in the music industry.
Image courtesy of Danny/WENN.com.
more celebrity babies
Peaches Geldof gives birth to first child Astala
Billie Piper and Laurence Fox welcome baby Eugene Pip Fox
Hilary Duff shows off her tiny son on Twitter
Bruce Willis has yet another daughter