Danielle Is Officially A Footballer's Wife!
Things are looking up for Danielle Lloyd after a nightmare year, as the model and reality TV star has married her boyfriend Jamie O'Hara, a football player for Wolverhampton Wanderers.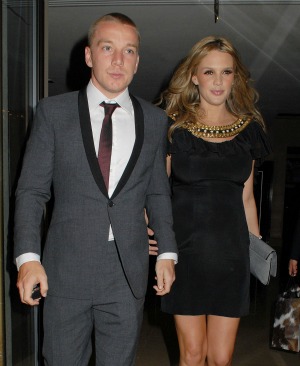 After dating many well-known football players, Danielle Lloyd finally joined the ranks of the footballer's wives this weekend when she married Wolverhampton Wanderers midfielder Jamie O'Hara. The couple met in 2009, not at a celebrity party but in fact at their local gym. They got engaged later that year and have two children together, 1-year-old Archie and 10-month-old Harry.
The past year has been a difficult one for Lloyd and O'Hara. First there were difficulties in her pregnancy with Harry, who arrived ten weeks ahead of schedule with a hole in his heart. Danielle also discovered a blood clot during a plastic surgery operation earlier this year, which made her so ill that her weight dropped by 3 kg in one week.
Although they are both regulars in the celebrity gossip magazines, Danielle and Jamie kept their wedding private and no photos of their outfits have so far been revealed. However, they did invite some of their celebrity friends to the ceremony, including Danielle's fellow Celebrity Big Brother stars Amy Childs and Michelle Heaton. The wedding took place at the Great Conservatory in Syon Park, South-West London, and they were lucky as it was one of the sunniest days of 2012 so far!
Image courtesy of WENN.com.
more celebrity weddings
Carey Mulligan's star-studded wedding to Marcus Mumford
Keira Knightley engaged to Klaxons musician James Righton
Agyness Deyn marries Friends actor Giovanni Ribisi