Amy's House Valued
At £2.7 Million
The Camden house where singer Amy Winehouse lived until her death in 2011 has gone up for sale with an asking price of £2.7 million.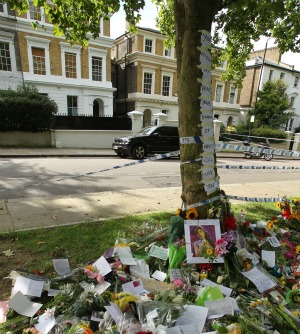 It was originally hoped that Amy Winehouse's final home would be kept in the family or used as a base for her charity, but it has been announced today that the house in Camden Square, London, will be sold. The property has been valued at £2.7 million. According to the family's spokesperson, the decision was made to sell the house as "none of the family felt it appropriate that they should live in it."
Amy's father Mitch bought the three-bedroom house for £1.8 million in 2010 and it became Amy's London base. Sadly, it was also the location of her death in July 2011. Thousands of Amy's fans paid tribute to the star by leaving flowers and messages outside the house.
Amy had a strong connection to the Camden area of London, as she often went out to local bars and gigs with her friends. She made her final public appearance with her goddaughter Dionne Bromfield at the famous Roundhouse venue, and met her ex-boyfriend, fellow singer Alex Clare, at her favourite local pub, The Hawley Arms, where he worked and performed.
Image courtesy of WENN.com.
more celebrity deaths
Bee Gees lead singer Robin Gibb dies after cancer battle
Legendary stylist Vidal Sassoon dies at 84
Pete Doherty speaks about Amy Winehouse's death