Kate Middleton's
Jubilee Style Guide
As with every public event where she appears, all eyes were on Kate Middleton during the Queen's Diamond Jubilee celebrations to see what the stylish wife of Prince William had chosen to wear.
Royal summer style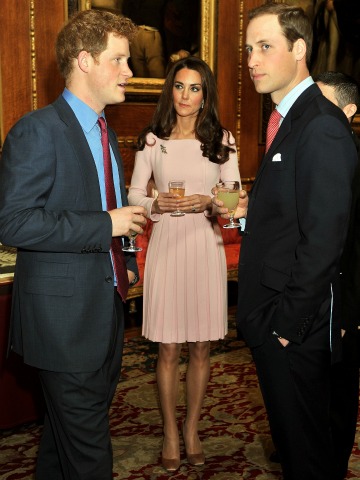 For Kate Middleton and her mother-in-law Camilla, the Queen's Diamond Jubilee celebrations kicked off early with a garden party at Buckingham Palace on May 29. The Duchess of Cambridge decided to plump for an old favourite for this event, a £1,200 pink Emilia Wickstead coat dress which she also wore when attending a lunch at Windsor Castle a few weeks earlier.
Gorgeous in red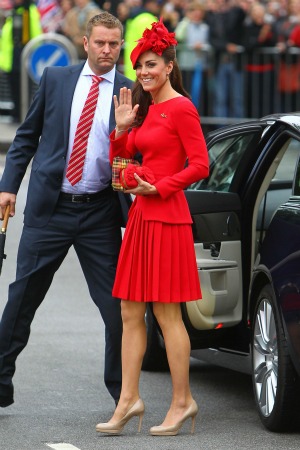 On Sunday June 3, Kate had the challenge of dressing appropriately for a boat trip while still looking glamorous. She wore a red dress by Sarah Burton for Alexander McQueen, which has previously been worn by celebrities including Tulisa and Kim Kardashian, adapted to be more demure with long sleeves and a longer skirt. Kate accessorised with a red hat designed by Sylvia Fletcher for James Lock, and a silver dolphin brooch which was a gift from her husband Prince William and is a symbol of the Royal Navy submarine service.
Lovely in lace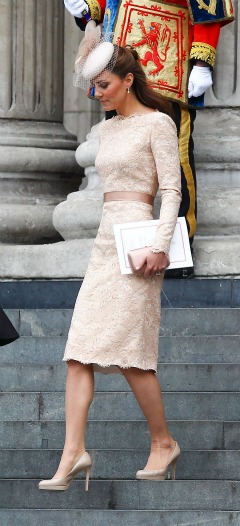 For her memorable appearance with the Queen and the rest of the Royal Family on the balcony of Buckingham Palace on Tuesday June 5, Kate once again called on her favourite designer, Sarah Burton for Alexander McQueen. She wore a nude-coloured lace dress with a shapely bodycon design. Nude is a colour Kate is often seen in, and could inspire a summer trend as fashionistas around the world attempt to imitate the stylish royal spouse.
Images: WENN
more on the royals
Paul McCartney and Elton John play Jubilee concert
ITV set for "summer of love" thanks to the Queen and Shazam
Pippa Middleton to release party planning book Celebrate
More From SheKnows Explorer