Nicole To Move To
U.K. For X Factor
Pussycat Dolls singer Nicole Scherzinger will join the judging panel for X Factor despite losing her role on the U.S. version earlier this year.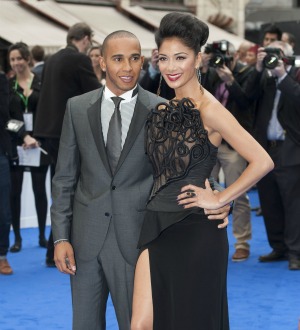 Racing champ Lewis Hamilton will be happy to hear that Nicole Scherzinger has won a place on the X Factor judging panel, as it means his pop singer girlfriend will be spending much more time in the country this year. After impressing the show's producers as a guest judge in the early rounds of the 2012 series, Nicole has been chosen to replace former judge Kelly Rowland.
Lewis and Nicole have had an on-off relationship over the past four years, as they found it difficult to see each other due to their busy schedules and the fact that Nicole lives in America while Lewis is based in the U.K. Nicole's decision to take a job on The X Factor, which means remaining in the U.K. for the latter half of 2012, suggests she is ready to make a more serious commitment to Hamilton.
Scherzinger's relationship with The X Factor has also been tumultuous. She first appeared as a guest judge in the U.K. in 2010, and was involved in putting together the highly successful X Factor boyband, One Direction. She was then chosen to judge the first series of X Factor in her home country, but was not well received by the American public and her contract with the show was not renewed for a second year. Nicole will be hoping it's third time lucky as she joins Tulisa, Louis Walsh and Gary Barlow to find the next big thing in the U.K. this year.
Image courtesy of Lia Toby/WENN.com.
more reality TV news
Cheryl Cole denies miming "Call My Name" on The Voice
Made In Chelsea 's Spencer Matthews to star in The Bachelor
Katherine Jenkins reaches Dancing With The Stars final
Danny O'Donoghue denies he is dating The Voice's Bo Bruce