Irish Star "Devastated" By Bankruptcy
Shane Filan of Irish boyband Westlife has been declared bankrupt after his property company couldn't pay back their debts.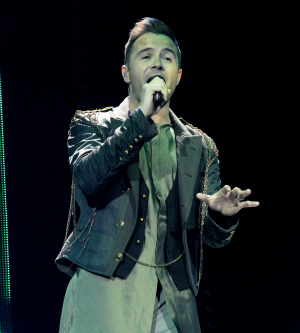 Despite the fact that his band Westlife has sold over 44 million records worldwide, Irish singer Shane Filan has been forced to declare himself bankrupt. The boyband star set up a property company with his brother Finbarr called Shafin Developments Limited, which struggled with debts due to the financial crisis in Ireland. Shane explained: "I have worked long and hard to try to reduce my debts, and I am devastated that it came to this conclusion."
The fact that Westlife have announced they are splitting up after their current tour means that Shane won't be able to rely on income from his music to recover his finances. However, Shane plans to launch a solo career once the Westlife farewell tour concludes, which could be the answer to his money problems if it's a success.
It was reported in March this year that three major U.K. record labels were keen to sign Filan, who often takes lead vocals on Westlife hits. It has been rumoured that Shane is hoping to become the Irish equivalent of Michael Bublé, and his debut solo album is set for release at the end of 2012.
Shane said in an interview with Ireland's Herald newspaper "I'm just working out now exactly what's happening, there's different things happening and we'll work it out in the next month or two. Obviously I want to make the right decision."
Shane could have some competition from his bandmate Mark Feehily, however, as Mark has also stated his intention to launch a solo career.
Image courtesy of Brigitte Engl/WENN.com.
more celebs in trouble
Rihanna cancels U.K. visit with rumours of exhaustion
Huey Morgan lashes out at Lauren Laverne and Fearne Cotton
Marcus Collins gets into homophobia row with Maria Fowler
Harry Styles' family forced to leave home due to fan invasion