Superstars And Special Guests Invade Hackney!
Radio 1's Hackney Weekend music festival was a big success, with performances from A List stars such as Rihanna and Jay-Z and surprise special guests including Kanye West and Cheryl Cole.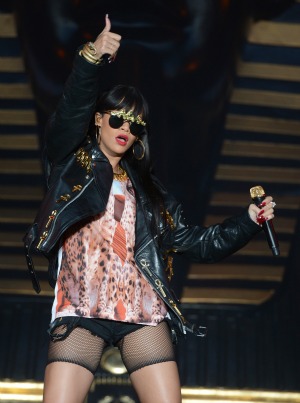 The biggest music event of this weekend by far was Radio 1's Hackney Weekend festival. The festival is usually called One Big Weekend and travels to a different location each summer. Hackney was chosen for 2012 as it is where this year's Olympic Games take place. Radio 1 invited a stellar line-up, including some of the biggest international and U.K. stars, and entrance was free which meant many attendees were experiencing their first ever music festival.
The main talking points of the weekend were the two headliners. Jay-Z wowed the crowd and viewers at home with a set featuring the biggest hits of his career. He brought on three special guests: Rihanna, M.I.A. and Kanye West, the latter joining him for the final half hour of his set to perform tracks from their joint album, Watch The Throne. Rihanna returned on Sunday to perform her own greatest hits and tracks from her latest album, Talk That Talk.
Reviews of the event have been glowing, with The Guardian giving it 5 stars, while The Huffington Post praised the British artists for matching the talent of their American counterparts. The event also gave 2012 breakthrough artists such as Azealia Banks, Rita Ora and Lana Del Rey a chance to prove they deserved to be performing alongside established artists, and all three asserted that they are here to stay.
Image courtesy of WENN.com.
more live music
The Voice arena tour cancelled due to low ticket sales
Danny Boyle reveals plans for Olympic opening ceremony
Paul McCartney and Elton John play Jubilee concert
Kerry Katona makes music comeback at Birmingham Pride