Tickets Go On Sale For Spice Girls Musical!
All five Spice Girls were reunited today at the launch of the West End musical Viva Forever, which features their greatest hits.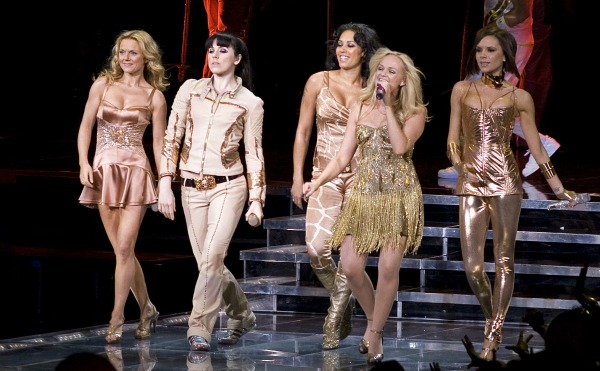 The long-awaited Spice Girls musical Viva Forever was officially launched today with a press conference attended by all five band members, Melanie Chisholm, Melanie Brown, Victoria Beckham, Emma Bunton and Geri Halliwell. The musical features most of the Spice Girls' greatest hits and an original story based on the songs' lyrics, about a girlband on the path to stardom.
The musical is produced by Judy Kramer, who was responsible for the ABBA musical Mamma Mia, and written by comedienne Jennifer Saunders who previously appeared with the Spice Girls in their video for "Who Do You Think You Are." Tickets went on sale today for the musical, which will run from Dec. 11 at the Piccadilly Theatre in London's West End.
The press conference today was held at the St Pancras Hotel, the famous location of their first music video for "Wannabe." Speaking about the musical in a new promotional video, Mel C said "Myself and the other Spice Girls have thought for years how perfect our music would be in a musical." Emma added, "To have Judy Kramer on board with this musical is just a dream come true."
Image courtesy of L. Gallo/WENN.com.
more pop stars
Nicki Minaj announces U.K. arena tour for October 2012
Jay-Z and Rihanna impress at Radio 1's Hackney Weekend
Calvin Harris and Rita Ora argue on Twitter over Cheryl song
Gary Barlow beats Peter Andre to Celebrity Dad of the Year