American Singer
Plans To Sue Jessie!
Jessie J is facing a lawsuit over her No. 1 single "Domino," as American singer Will Loomis claims it copies his song "Bright Red Chords."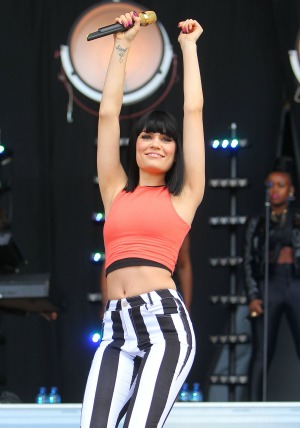 British singer Jessie J could be sued by an American artist named Will Loomis if her hit single "Domino" is ruled as infringing the copyright of the song "Bright Red Chords," which was released by Will's band Loomis & The Lust in 2009. "Domino" was written by Jessie in collaboration with well-known pop songwriters Dr. Luke, Max Martin, Claude Kelly and Henry Walter, and Loomis believes they copied parts of "Bright Red Chords." He is seeking a jury trial and hopes to receive at least $150,000 in damages.
Whether or not Loomis succeeds in his lawsuit against Jessie and her co-writers, he has become much more famous overnight as music fans have listened to his track to compare it to "Domino." Most of the newly added comments on the song's YouTube page claim that the two songs don't sound that similar, and many even suggest that "Bright Red Chords" is itself imitating a famous song from the 1970s, "Gimme Some" by Jimmy "Bo" Horne.
Jessie, who had a No. 1 U.K. chart hit with "Domino" earlier this year, isn't the first artist to be accused of copying a much less famous song. Britney Spears was accused of plagiarising a song by country duo The Bellamy Brothers with her 2011 hit "Hold It Against Me," while U.K. dance artist Calvin Harris was on the other side of a similar issue in 2010. He tweeted his accusations that Chris Brown had copied his song "I'm Not Alone" in Brown's worldwide hit single "Yeah 3x" and Harris was eventually given a credit on the track.
Image courtesy of WENN.com.
more british singers
Spice Girls reunite to launch new musical Viva Forever
Ronan Keating attacked by drunk fan at Isle of Wight festival
Calvin Harris and Rita Ora argue on Twitter over Cheryl song
Gary Barlow beats Peter Andre to Celebrity Dad of the Year