Holly Warned About Promoting Very Dresses
Holly Willoughby has launched her latest line for online fashion store Very, but has received a warning for promoting the dresses while presenting ITV show This Morning.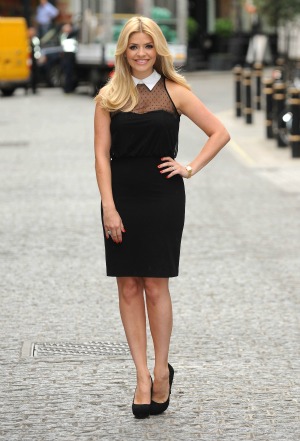 As TV presenter Holly Willoughby is a celebrity who women want to be and men want to date, it made sense for her to launch her own fashion line so her female fans can imitate her stylish look… or even the men if they feel so inclined! Holly has collaborated with Very, an online fashion store popular with women in their 20s, for several years and this week launched her latest line of chic dresses for autumn/winter 2012.
The dresses in Willoughby's new Very line are designed to flatter curvy girls, like Holly herself, and come in a variety of bright colours and floral patterns to suit a party or posh lunch. Holly, however, chose to model a black dress with a white collar for the launch event, perfect for an evening out or even a special work event.
Holly has proved how much she likes the designs in her collection by wearing them herself on several occasions on the ITV show she presents, This Morning. However, new rules made by media watchdog company Ofcom state that TV personalities should not promote their own products during their shows, and Holly has reportedly received a warning that her dresses should not receive "undue prominence" in her TV appearances.
Image courtesy of Zak Hussein/WENN.com.
more celebrity fashion
Mary-Kate and Ashley launch fashion range in the U.K.
Prince Charles launches London's first Men's Fashion Week
Kate Middleton sets summer trends at the Queen's Jubilee
Made in Chelsea 's Millie Mackintosh is new face of Lipsy