Mardy Fish Causes Wimbledon Injury
A female line judge was dramatically hit in the face by a ball during a Wimbledon match between Jo-Wilfred Tsonga and Mardy Fish.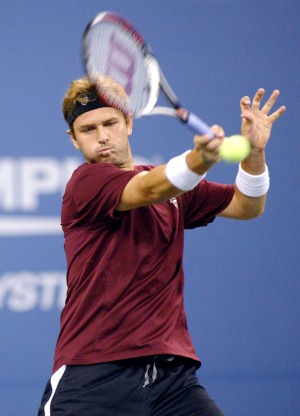 American tennis player Mardy Fish was looking a little embarrassed during his match against Frenchman Jo-Wilfred Tsonga at Wimbledon, and not just because of his name, which has been the subject of several jokes. One of Fish's serves flew right past Tsonga and hit a female line judge in the face! The ball was travelling at 118 mph at the time.
The line judge, whose job it is to determine whether a ball lands in or outside the lines of the court, bravely continued and pronounced the ball as out, despite clearly being in pain. Tsonga went over to check on the injured woman, before she was escorted off the court to the sound of cheers from the crowd. The match was eventually won by Tsonga, which meant he was through to the quarter- finals.
The line judge's injury was one of many memorable moments from Wimbledon 2012 so far. The tournament may be most remembered for its surprisingly early exits by Rafael Nadal, Venus Williams and Maria Sharapova. However a visit from Prince Charles and Camilla, and controversy over how much female players are paid have also been major talking points.
Image courtesy of HRC/WENN.com.
more sport stars
The Saturdays' Una Healy marries rugby star Ben Foden
Footballer Joey Barton's vicious Twitter rant at Paris Hilton
David Beckham's H&M line mocked by football fans
Alexandra Burke fuels rumours she is dating Jermain Defoe
More From SheKnows Explorer