Will Nicole And Lewis Last The Summer?
Nicole Scherzinger is said to be furious after her race car-driver boyfriend Lewis Hamilton took ten girls back to his hotel room for a late night party.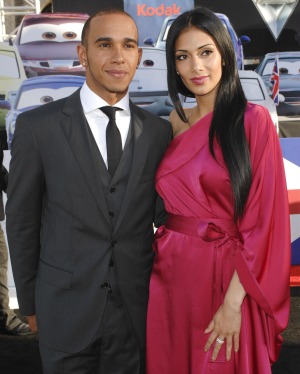 Nicole Scherzinger and Lewis Hamilton's on-off relationship may be on the rocks again after Hamilton's drunken night out left Scherzinger "angry and embarrassed." The couple seemed to be getting serious when Nicole signed up to spend the rest of 2012 in the U.K., as a judge on The X Factor, but their relationship may not last the summer if it emerges that Lewis was unfaithful to his American singer girlfriend.
According to the Daily Mail, usually well-behaved Lewis was led astray by his new rapper friend J.Cole. They went out partying after discussing working together on a song for Lewis' debut album. The celebrity pair took ten girls back to a penthouse suite at London's Mayfair Hotel, and stayed up dancing and drinking champagne until 5.30 a.m. Lewis normally rarely drinks and is very focused on his career, so the wild night out must have come as a shock to Nicole.
Lewis and Nicole have been dating since November 2007, but they have separated on several occasions due to the pressures of living on opposite sides of the Atlantic. However, Nicole's decision to move to the U.K. to take a job as an X Factor judge for 2012 suggests she is willing to show commitment and wants to spend more time with her sports-star boyfriend. Now Lewis just needs to prove he feels the same, and perhaps their long-rumoured engagement will become reality!
Image courtesy of Apega/WENN.com.
more celebrity couples
Professor Green denies dumping Millie Mackintosh
Sienna Miller and Tom Sturridge welcome baby girl Marlow
Prince Harry's film star crush won't be next Kate Middleton
Claire Danes and Hugh Dancy expecting their first child
More From SheKnows Explorer