Peter Has The Hots For 23-Year-Old Emily
Last night Peter Andre was seen on his second date in a week with Emily MacDonagh, a pretty young medical student whose father performed emergency surgery on Peter in 2010.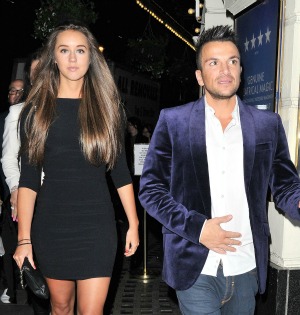 Celebrities usually meet their partners at fancy parties or events, but not Peter Andre. After dating several famous women, including Katie Price and Elen Rivas, Peter now has his attention focused on Emily MacDonagh, the daughter of the man who performed Peter's kidney surgery two years ago. Andre stayed friends with Emily's dad Ruaraidh and travelled with the family to Zanzibar for a charity project recently.
Like her father, Emily is training to work in medicine, so she is a complete contrast to the models and TV stars Peter has been linked to before. However, she is just as pretty, and Peter has described her in his new! magazine column as "a beautiful girl" and "a very special person." He sounds quite smitten! Emily has even been introduced to Peter's family, as his brother Andrew joined them on their theatre trip to see the musical production of Ghost.
Another difference between MacDonagh and Peter's previous girlfriends is her age. Emily is 16 years younger than Peter, 39, at just 23 years old. While the age gap could put pressure on their relationship, especially as Peter already has children, other celebrity couples have made a success of similar age gaps. For example, Catherine Zeta-Jones and Michael Douglas have been together for 13 years, and the age gap between them is 25 years.
Image courtesy of WENN.com
celebrity couples
Nicole Scherzinger angry at Lewis Hamilton's wild party
Professor Green denies dumping Millie Mackintosh
Sienna Miller and Tom Sturridge welcome baby girl Marlow
Prince Harry's film star crush won't be next Kate Middleton