Beckham To Perform With Flaming Football
David Beckham is set to play a small part in tomorrow night's Olympic opening ceremony, performing tricks with a flaming football.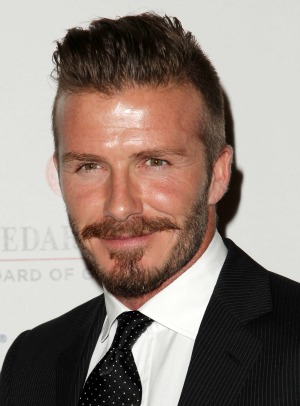 Star footballer David Beckham may have missed out on the chance to be part of the Great Britain football team but he will still be performing at London 2012.
In an interview with ITV News, Beckham said, "I'm playing a small part in the opening ceremony, which I am excited about. I'd love to tell you the details but I can't. It's exciting, it's going to be good." Although David has kept tight-lipped about his involvement, the Daily Star has claimed he will be performing tricks with a flaming football. The Evening Standard has also reported that David will be one of the torchbearers who carry the Olympic flame during the ceremony.
Much of the attention surrounding tomorrow night's big event has focused on a mysterious surprise element, which those who attended this week's technical rehearsals have been asked to keep secret. Many of the audience members and participants have been tweeting with the hashtag #savethesurprise, after the ceremony's director asked them to keep it quiet.
Image courtesy of WENN.com.
more sport stars
The Saturdays star Mollie King linked to cricketer Stuart Broad
Nicole Scherzinger angry at Lewis Hamilton's wild party
Andy Murray goes through to Wimbledon 2012 final
Maria Sharapova joins Wimbledon sexism debate