Robbie Preparing To Make 2012 Comeback
Robbie Williams has announced that his upcoming ninth solo album is nearly complete and will be released this year, probably with a tour to follow.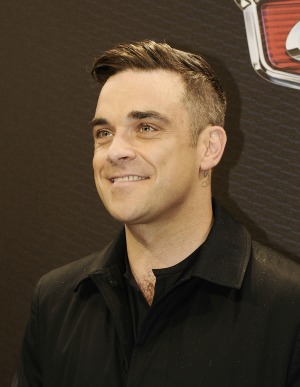 Details are gradually emerging about the new solo album by Robbie Williams, his first since he rejoined the band that first made him famous, Take That. In a new blog post on his official website, Robbie revealed that he is currently in the process of deciding which songs should be on the final tracklist.
Although Robbie has given away very little about the new album so far, one unsuspecting fan did get a preview of one of the songs recently. Adam Houabi, a student from Essex, was treated to a private acoustic performance from the "Angels" singer via the video chat website Chatroulette.
From his Hollywood home, Robbie sang a new song called "Losers" for Adam and told him that it would be released in October, confirming that we can expect new material from Williams before 2012 is out. However, a spokesperson for Robbie said that it would not be the first single from the new album, suggesting the album itself may be intended for an October release.
In Robbie's new blog post, he gave readers an insight into his current lifestyle. As well as working on the new album, he is also awaiting the arrival of his first child with wife Ayda Field, and making plans for a new concert tour.
Image courtesy of Marcella Merk/WENN.com.
more new music
The Wanted recording with Rita Ora and LMFAO
Mumford & Sons announce details of their new album Babel
Andrew Lloyd Webber writing with Gary Barlow for Take That
New Nas track featuring Amy Winehouse to be released