Sheeran To Sing With Legendary Rockers
"The A Team" singer Ed Sheeran has confirmed he will perform a duet with Pink Floyd on the song "Wish You Were Here" at the London Olympics closing ceremony.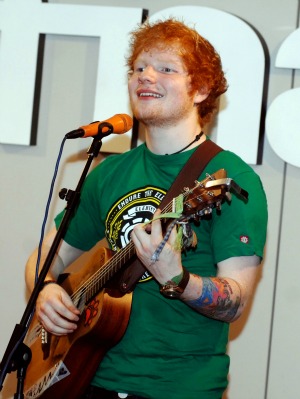 He's only been famous for a year but already Ed Sheeran has been given the opportunity to be part of music history, as he is set to perform at the closing ceremony of the London 2012 Olympic Games. Not only that, but he will be singing a duet with one of Britain's most successful rock bands, Pink Floyd.
Ed confirmed the news in an interview with Australian radio station, Nova: "I'm playing the closing ceremony -- which I think is kinda cool right? I'm doing a song with Pink Floyd… 'Wish You Were Here.'" While Ed's fans are proud of their idol being offered such an important role, many Pink Floyd fans have expressed their disappointment following the news, with tweets including "Pink Floyd, I love you, but please dear god don't duet with Ed Sheeran" and "That's like getting a kid to scribble on the Mona Lisa."
While Ed's inclusion in the line-up has been controversial, the strongly rumoured reunion performance by the Spice Girls has attracted great excitement from their fanbase. Other artists expected to perform include The Who, Take That and George Michael.
Image courtesy of Massimo Barbaglia/WENN.com.
more music stars
Robbie Williams says new solo album is almost finished
Tulisa grieves for friend who appeared in her music video
Charlotte Church wins libel case against tabloid The People
Elton John believes he should have died of AIDS