Jessica Ennis Predicted For Olympic Gold
Olympic athlete Jessica Ennis is favourite to win gold in the women's heptathlon after matching the world record in the first event, the 100 metre hurdles.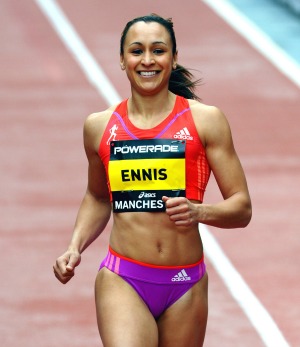 Jessica Ennis, 26, is one of the most popular British athletes at the London 2012 Olympic games and today has proved her reputation is deserved by equalling a world record! Ennis is taking part in the women's heptathlon, which includes seven events: the 100 metre hurdles, high jump, shot put, 200 metres, 800 metres, javelin and long jump.
Jessica began her Olympic attempt with a great achievement this morning, as she completed the 100 metre hurdles in just 12.54 seconds, a British record and equal to the world record which was set by America's Dawn Harper in the individual event at the Beijing 2008 Olympics. A few hours later, Jessica was the centre of attention again in the high jump event. Unfortunately she didn't match her personal best but reached a respectable 1.86 metres and remains in the lead overall. The remaining events of the heptathlon will take place this evening and tomorrow morning.
Earlier today, Team GB achieved gold in women's double sculls rowing thanks to formidable duo Anna Watkins and Katherine Grainger, and bronze in men's pair rowing. There was also great excitement yesterday evening at the women's judo event, where British competitor Gemma Gibbons narrowly missed out on gold to Team U.S.A's Kayla Harrison, but nonetheless proudly received a silver medal. These and other successes over the past few days have moved Great Britain up the medals leaderboard to an impressive fourth place, behind China, U.S.A. and Korea.
Image courtesy of WENN.com.
more on the games
Ed Sheeran to duet with Pink Floyd at closing ceremony
Bradley Wiggins wins gold and breaks Olympic record
Tom Daley and Pete Waterfield miss out on Olympic medals
A gold medal for the Olympic opening ceremony