Kate Shows Her
Support For Team GB
Royal spouse Kate Middleton was spotted supporting the women's hockey team at the Olympics yesterday, cheering them on despite their loss against Argentina.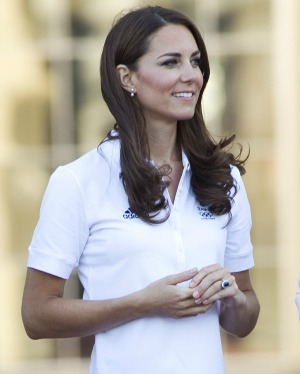 Until yesterday, Kate Middleton had been Team GB's lucky charm at the London 2012 Olympics. When Chris Hoy won his record-breaking sixth gold medal, Kate was present, and she joined other royals to watch Prince William's cousin Zara Phillips win silver in the Equestrian eventing. However, her lucky streak seems to have ended as the British women's hockey team failed to beat Argentina in the semi-finals last night, despite Kate being in the audience.
Kate was sporting a smart-casual look, with skinny jeans and a blue designer blazer over a white T-shirt. She had white and blue covered, but had missed the opportunity to complete the Union Jack with something red.
Although the hockey team failed to reach the finals, meaning they won't be able to take home the gold or silver medal, they still have a shot at winning bronze if they beat New Zealand tomorrow.
Kate had a particular interest in the female hockey players' success, as she joined them during their training at the Olympic Park before the games began. Middleton was captain of the hockey team at school, and according to British team captain Kate Walsh, "she was really good… she got low and her shots were really sweet." Perhaps Kate will take up hockey again after her experience with Team GB.
Image courtesy of WENN.com.
more on the royals
Designer Karl Lagerfeld criticises Pippa Middleton's looks
Naomi Watts to play Princess Diana in biopic Caught In Flight
Paul McCartney and Elton John play Jubilee concert
Prince William celebrates 30th birthday with breakfast in bed