Rob's First Interview Since Kristen's Affair
Robert Pattinson appeared on The Daily Show with Jon Stewart last night for his first interview since Kristen Stewart admitted her affair with film director Rupert Sanders.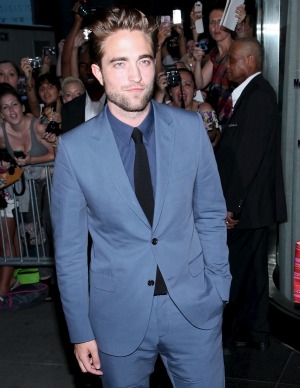 Famously private Twilight actor Robert Pattinson would probably prefer to be on holiday somewhere remote right now, getting over his dramatic breakup from long-term girlfriend Kristen Stewart. However, Pattinson has a new movie to promote so work commitments have to continue. Rob appeared at the premiere of his new film Cosmopolis in New York last night, and also made a visit to The Daily Show where he was interviewed by Jon Stewart.
Jon Stewart brought humour to the occasion, offering Rob a tub of Ben and Jerry's ice cream to help ease the pain and joking, "Boy, you are better off, kick her to the curb." However, Rob was his usual slippery self and managed to get out of giving away any details about what had gone on between him and Kristen. He simply said he wishes he had a publicist to deal with all of the difficult questions.
Although The Daily Show producers and viewers didn't get the juicy gossip they were hoping for, the response to Pattinson's appearance was generally positive. Many journalists have remarked that he was looking well and wearing a dapper suit and new hairstyle, perhaps hoping that Kristen would be watching the show to see what she was missing.
Image courtesy of Andres Otero/WENN.com.
More film stars
Bob Hoskins retires from acting after Parkinson's diagnosis
Richard E. Grant to star in Doctor Who Christmas special
Christopher Eccleston to play villain in Thor: The Dark World
Jonathan Rhys Meyers to star as Dracula in new TV series