Imogen Reveals Panic At Pregnancy Complication
Big Brother star Imogen Thomas has revealed that she was rushed to hospital last week, fearing she had miscarried her unborn baby due to an unusual womb condition.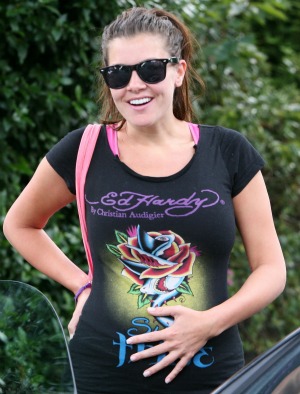 Former Big Brother contestant Imogen Thomas recently announced she was pregnant with her first child with boyfriend Adam Horsley, but a few days later she was experiencing complications. After a routine check-up, where the baby was found to be in good health, Thomas started bleeding heavily and quickly went to the Accident and Emergency unit at her local hospital.
Imogen discovered that the problems were due to the fact she has a tilted womb, an issue which around ten per cent of pregnant women experience. This means that her baby bump will be larger than normal, but will not affect the child's health.
Imogen has dated many famous men in the past, including Tyson Beckford and Russell Brand. However, she has chosen to settle down with Australian businessman Adam, after only ten months together. The pregnancy is good news for Imogen after a difficult time when her affair with married footballer Ryan Giggs was splashed across the tabloids, leaving her suffering from depression and a target of abuse on sites such as Twitter.
Image courtesy of WENN.com.
More celebrity babies
Gary Barlow mourns loss of stillborn baby daughter Poppy
Sienna Miller and Tom Sturridge welcome baby girl Marlow
Claire Danes and Hugh Dancy expecting their first child
Radio DJ Chris Evans helicoptered to birth of baby son