Robbie Plans To Leave
His Los Angeles Home
Take That singer Robbie Williams and his wife Ayda Field are moving back to the U.K. to raise their first child, while Robbie will also be relaunching his solo career.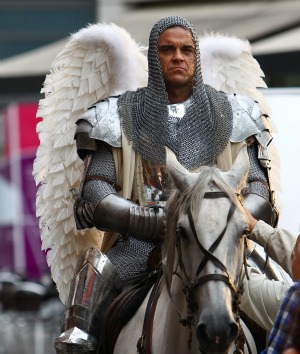 According to the Daily Record, Robbie Williams has flown his 33 weeks' pregnant wife Ayda Field to the U.K. via private jet, so that their baby can be born here. Ayda is believed to be staying with her mother, Gwen, while she waits for the new baby's arrival.
Meanwhile, Robbie is busy preparing for the release of his new solo album, his first since he rejoined Take That in 2010. The lead single from the album will be called "Vertigo" and Robbie recently filmed its music video. Photos have emerged of the singer dressed as a knight alongside former Skins actress Kaya Scodelario. He is also reportedly planning a major U.K. and European tour, as his return to Take That reminded him why he loves performing live.
Robbie has lived in Los Angeles since 2004 and owns a mansion there which is worth an impressive £12 million. However, he wants his first child to be brought up in the U.K., like he was. It also means that his parents Janet and Peter Williams will get the chance to be part of the baby's early years.
Image courtesy of WENN.com.
More pop singers
Spice Girls and Jessie J star in the Olympic closing ceremony
Justin Bieber mocks Prince William's bald patch
Lily Allen will release new music as Lily Rose Cooper
Tulisa grieves for friend who appeared in her music video