Robbie Returns With Catchy New Song
Robbie Williams has released his first solo single and music video since he reunited with Take That, "Candy."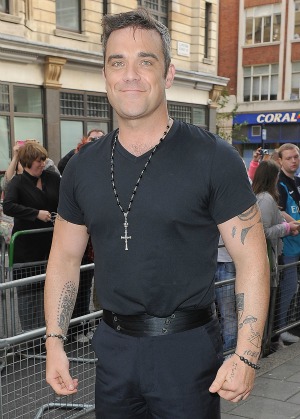 Robbie Williams last released new material as a member of the reunited Take That but now he's a solo artist again, with a comeback album due out in November. The first step in relaunching his solo career was the premiere of his new single "Candy," which had its first radio play yesterday. "Candy" represents a return to the cheeky, fun Robbie seen in songs like Rock DJ, and has a very catchy chorus which is sure to get the song lots of airplay.
A few hours after "Candy" premiered, its music video was posted online. The video features Skins star Kaya Scodelario as Candy and Williams as an angel. It was directed by Joseph Kahn, whose previous work includes 21st century pop classics such as "Toxic" by Britney Spears and "Love The Way You Lie" by Eminem and Rihanna.
"Candy," which was co-written with Robbie's Take That bandmate Gary Barlow, will be released on
Oct. 29. It will be followed by the album Take The Crown on Nov. 5. The full tracklisting for the LP was recently leaked and it was revealed that one track called "Losers" will be a duet with American folk-rock singer Lissie.
Image courtesy of Will Alexander/WENN.com.
More new music
JLS announce new single "Hottest Girl In The World"
One Direction announce details of new album Take Me Home
Sam and the Womp hit No. 1 with debut single "Bom Bom"
OutKast's Big Boi planning collaboration with Kate Bush
More From SheKnows Explorer