It's Another Royal Nakedness Scandal!
The French version of Closer magazine has been criticised by the Royal Family for publishing topless photos of Prince William's wife Kate Middleton.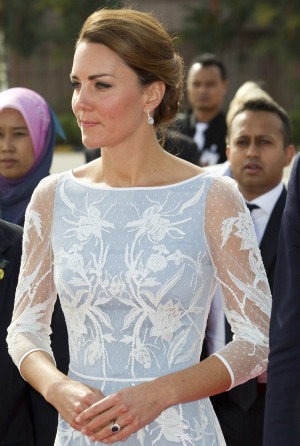 Only a few weeks after Prince Harry's Las Vegas exploits another scandal involving the Royal Family getting naked has emerged. The French version of Closer magazine has published photos of Kate Middleton sunbathing topless while on holiday in the south of France with her husband Prince William. The photos were printed under a heading "Oh my God!" and suggested that Harry had started a trend for the Windsors taking their clothes off.
The photos have sparked more debate over the royals' rights to privacy and the freedom of the press. Officials acting on behalf of the family are speaking to lawyers in an attempt to prevent the photos spreading further and sources say that William and Kate were very upset and angry when they heard the news. They learned about the situation during their current visit to Malaysia.
St James' Palace has released a statement in response to the photos, saying: "Their Royal Highnesses have been hugely saddened to learn that a French publication and a photographer have invaded their privacy in such a grotesque and totally unjustifiable manner."
The French magazine's editor attempted to defend the photos, saying they are "not in the least shocking. They show a young woman sunbathing topless, like the millions of women you see on beaches." The difference is that in this case Kate was not on a beach but on private property, meaning the photographs were in breach of French privacy laws.
Image courtesy of WENN.com.
More on the royals
Prince William says he and Kate Middleton want two children
Prince Harry makes first public appearance since Vegas
Prince Philip taken to hospital as a "precautionary measure"
Designer Karl Lagerfeld criticises Pippa Middleton's looks