Celebs Set To Walk Down The Aisle In 2013
With all the engagements announced this year, 2013 is set to be a celebrity wedding bonanza. Stars including Brad Pitt and Angelina Jolie and Elizabeth Hurley and Shane Warne are all expected to tie the knot.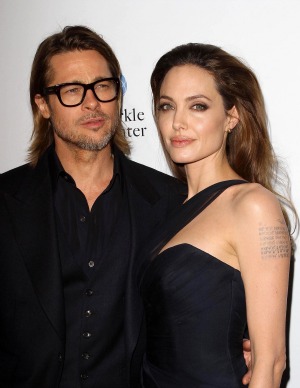 As celebrities rarely announce their wedding date, preferring to keep the information out of the press, it's difficult to predict when an engaged celeb couple will make their union official. However, here are five celebrity couples who are likely to be vying for wedding of the year in 2013.
Brad Pitt and Angelina Jolie
Considering they've been a couple for seven years and have six children together, you could easily be fooled into thinking Brangelina are already married. In fact, they only got engaged in April 2012 so a 2013 wedding is highly likely. Whenever they marry, it's sure to be a star-studded event and the kids will undoubtedly be on bridesmaid and page boy duties.
Elizabeth Hurley and Shane Warne
Elizabeth and Shane revealed in their first joint interview earlier this year that they are planning two weddings in 2013, one in the U.K. and another in Australia, where Shane is from. The couple have both been married before: actress Liz to Indian businessman Arun Nayar and cricket player Shane to Simone Callahan, the mother of his three children.
Keira Knightley and James Righton
Film star Keira and musician James are not your typical red carpet couple so their wedding is likely to be a private and low key affair. In a recent interview with Ellen DeGeneres, Knightley said she has no idea how to plan a wedding. She revealed she was so unsure she Googled, "If you're getting married what should you do?" Perhaps she should employ a wedding planner.
Denise Welch and Lincoln Townley
Celebrity Big Brother winner Denise Welch is set to marry her partner Lincoln Townley, who is 15 years her junior. The Loose Women star has been married twice before and announced only this year that she had split from actor husband Tim Healy. However, it seems she and Lincoln are planning to stay together in the long term, as they were recently spotted at an IVF clinic.
Cher Lloyd and Craig Monk
Although critics have said 19-year-old pop star Cher Lloyd is too young to get married, she and her hairdresser boyfriend have been together for almost two years. They are clearly very serious, as Craig travels everywhere with Cher as her personal hairdresser. Although they originally planned to marry this summer, the wedding was delayed as Cher's career took off in America.
And those five aren't the only ones who should be walking down the aisle in 2013. Among the other couples we could see splashed across OK! magazine are Guy Ritchie and Jacqui Ainsley, Halle Berry and Olivier Martinez and Jennifer Aniston and Justin Theroux.
Image courtesy of FayesVision/WENN.com
More celebrity couples
Harry Styles and Taylor Swift take British mini-break
Rob Kardashian accuses Rita Ora of cheating with 20 men
Pete Doherty says he had a secret affair with Amy Winehouse
Rochelle and Marvin Humes expecting their first child together
More From SheKnows Explorer