Super Outdoor Adventure Food
Make the best of your camping and hiking outings by packing plenty of water and portable, nutritious foods that resist spoilage. Fuel up with these wonderfully easy, high-energy snacks.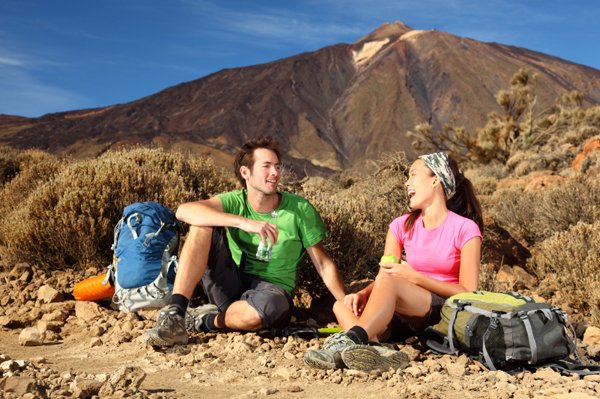 Cherry Almond Granola Bars
Makes about 20 granola bars
These Cherry Almond Granola Bars are a fantastic choice for hikers. They're substantial, ideal for one-handed noshing, and they won't melt in your hand or backpack.
Ingredients:
 200g rolled oats
 70g packed light brown sugar
 75g whole wheat flour
110g all-purpose flour
40g wheat germ
1/4 teaspoon salt
1/2 teaspoon ground cinnamon
150g dried cherries, roughly chopped
40g chopped or slivered almonds
160g honey
110g vegetable oil
1 egg, lightly beaten
1 teaspoon pure vanilla extract
1/2 teaspoon almond extract
Directions:
Preheat oven to 180 degrees C. Place a sheet of aluminium foil inside a 9 x 13-inch glass baking dish and mould it so that it fit the dish. Spray foil with a non-stick cooking spray.
Combine oats, flours, brown sugar, wheat germ, salt and cinnamon in a large mixing bowl. Add the cherries and almonds, and toss to combine.
In a medium-sized mixing bowl, mix together oil, honey, eggs, and both extracts. Pour wet ingredients over dry ingredients and stir until all dry ingredients are moistened.
Spoon the granola mix into baking dish and spread to cover bottom of pan. Using a spatula or your buttered hand, press down into an even layer.
Bake for 25-30 minutes, or until the edges have begun to brown. Leave to cool in pan. When cool, carefully lift foil out and transfer the baked granola sheet onto a cutting board.
Use a large, sharp knife to cut it into rectangular bars. Store in an airtight container, or wrap bars individually in plastic wrap and freeze.
Early Bird Breakfast Cookies
Makes about 1 dozen breakfast cookies
Have no time for a sit-down breakfast? Grab one of these chewy, moist, protein-packed "cookies" and hit that trail running.
Ingredients:
100g rolled oats
75g whole-wheat flour
20g nonfat dry milk powder
1 teaspoon ground cinnamon
1/2 teaspoon ground ginger
1/4 teaspoon baking powder
100g mashed banana (about 1 large)
125g chunky peanut butter, natural or regular
160g honey
1 teaspoon pure vanilla extract
150g dried cherries, roughly chopped
25g sunflower seeds (hulled)
Directions:
Preheat oven to 180 degrees C. Spray a baking tray with a non-stick spray or line with baking paper.
In a medium mixing bowl, mix together oats, flour, milk powder, spices and baking powder. Set aside.
In a large mixing bowl, stir together mashed banana, honey, peanut butter and vanilla extract. Combine dry and wet ingredients until fully incorporated, then stir in the cherries and sunflower seeds.
Using a medium-sized ice cream scoop or a tablespoon, scoop cookie dough out onto prepared baking sheet, leaving about 3 inches between mounds. Dip a small offset spatula into cold water and flatten each mound of dough into a cookie about 1/2-inch thick.
Bake for about 15 minutes, until the cookies are golden brown. Allow to sit on baking sheet for 1 minute, and then move to cooling racks until completely cool. Store in a sealed plastic container for up to 3 days, or freeze for up to 2 months.
S'mores Granola Munch Mix
Makes about 6-1/2 cups
Mix up a batch of this S'mores Granola Munch Mix to take along on your camping trip, in case the weather is less than cooperative when a craving for the classic campfire rendition strikes.
Ingredients:
300g rolled oats
75g slivered almonds
50g plus 1 tablespoon brown sugar, packed
80g plus 1 tablespoon honey
3 tablespoons vegetable oil
2 tablespoons raw cane sugar
1/2 teaspoon pure almond extract
1/2 teaspoon cinnamon
30g Curiously Cinnamon cereal
85g milk chocolate chips
170g mini marshmallows
Directions:
Preheat oven to 120 degrees C. Grease a large rimmed baking sheet with butter or non-stick spray.
In a large mixing bowl, combine oats, almonds, brown sugar, honey, oil, cane sugar, almond extract and cinnamon. Toss until all ingredients are coated.
Pour oat mixture onto baking tray and use a spatula to smooth down, covering the entire tray. Bake for 1 hour and 15 minutes, stirring the mixture every 15 minutes. The oat mixture will dry out and turn golden brown as it bakes. It will become firm as it cools.
Leave mix on the baking tray until it is completely cool, and then pour into a large mixing bowl. Break up any large clumps. Add the cereal, marshmallows and chocolate chips, stirring gently to combine. This mix will keep for at least a week at room temperature in an airtight container.
More From SheKnows Explorer