Budget-Friendly
Dinner Parties
Dinner parties are the best: You get to hang out with friends and family over good food (and perhaps some wine). The only problem is that dinner parties can get expensive. That's why we've compiled a few of our favourite tips for throwing the best dinner parties on a budget.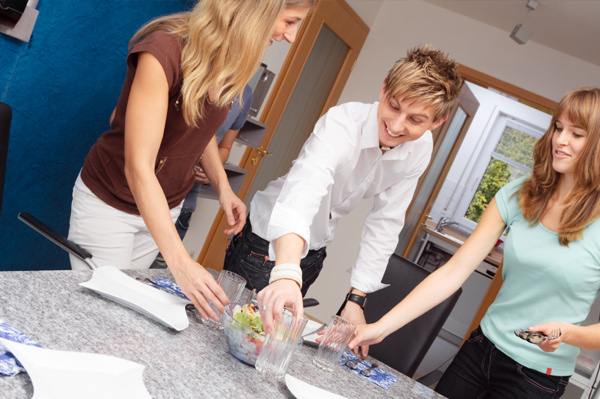 Be selective with guests.
We know you'd like to invite everyone to all of your parties, but it's not such a financially savvy idea when you're whipping up a big meal (and no one's paying you a dime for it). A better way to go about planning dinner parties is to opt for smaller, rotating ones. Instead of inviting the same groups of people to your house, mix it up. Have a few of your college friends over with a few of your high school friends. Everyone will get to know a little bit more about you, and you'll be helping your friends expand their social circle.
Prepare for potluck.
If you've offered up your place to host an event (and provide post-party cleanup), most people will be more than willing to help pitch in with meal making -- so make at least a few of your events potlucks. Get your friends and family to make their favourite dishes. Then, before everyone digs in, ask those who brought a dish to explain more about the meal and why it's so special to them.
Do wine & cheese.
Throwing a party involving expensive cheeses and wines may seem like a bad idea until you hear the catch: Instead of you being the one to purchase bottles of Pinot Gris and blocks of gouda cheese, each guest will be responsible for bringing one of each. You can supply all of the accoutrements (bread, olives, meats, desserts, etc.) as well as the dishware.
Stick to cocktails.
Preparing a full meal and supplying the booze to go along with it can be pricey, so who says each bash you throw has to be a sit-down deal? If you're keen to keep party costs to yourself, throw a cocktail party. Canapés and appetizers are much less expensive than a sit-down dinner for many mouths. Plus, the vibe of the party will be a bit more upbeat and energetic (perfect if you're hoping old friends will mingle with new friends -- and vice versa).
More entertaining tips
Bridal shower appetizer recipes
Bridal shower drink recipes
Weeknight entertaining: Quick meals to whip up
More From SheKnows Explorer