Budget-Friendly
Vegetarian Tips
A vegetarian diet is healthy, but it's not always budget friendly. The cost of specialty foods and fresh produce can add up quickly, and your purchases often keep your fridge stocked only for a few days at best. Before you return to your carnivorous diet, try these steps for eating vegetarian for less.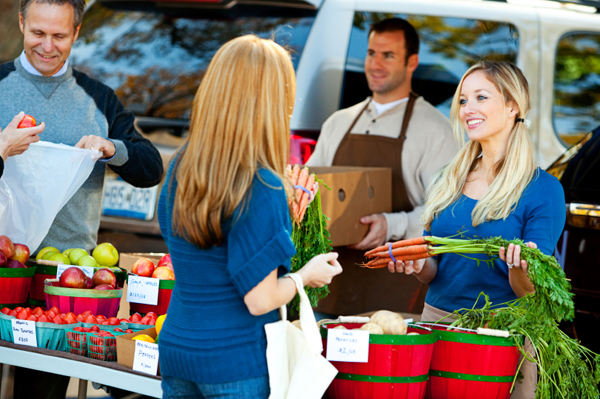 Where to Shop

Join a whole food cooperative.
You can buy fresh food in bulk for less and find others who share similar lifestyles and eating habits.
Shop at the farmers markets.
Produce from local farmers markets is fresh and often cheaper than store brands. Buy in bulk, if possible, and then freeze the excess or split up the items with friends.
Get discounted food online.
Approved Food and Drink sells discounted food and drink items across the U.K. The company has daily deals and claims to stock and deliver only high-quality items. Click on the Dietary and Lifestyle tab and select Vegetarian on the bottom to get the latest news on discounted meatless food. Current deals include various types of canned beans for £0.69 and plain flour for £1.00.
Compare before you shop.
mySupermarket lets you compare prices at various supermarkets to see which have the best deals. Signup is free.
What to get
Eat beans.
Canned beans are some of the cheapest, healthiest vegetarian staples you can buy -- for less than 1 pound in many U.K. supermarkets. Use them in vegetarian chilies, casseroles, pastas, soups and tacos.
Get soya mince.
You can buy dried soya mince at various health food stores to replace meat in your meals.
Buy store brands.
While some items are always better under name brands, many are fine in their generic versions. Soya milk and oven chips are good buys at places such as Tesco.
Get basics at discount stores.
You can get basic vegetarian meal staples for less at stores like Aldi and KwikSave. Items for your pantry may be as low as a third of the typical supermarket price, while produce is often half off.
More healthy eating tips
Choosing healthier food options for every meal
4 Tips to help your tween make healthier food choices
Superfoods: Myth or must-haves?
More From SheKnows Explorer