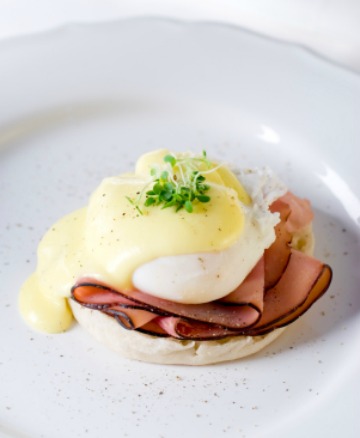 perfect for lazy mornings
Eggs Benedict is as British as a recipe comes and is a fantastic way to start your day, especially if it is a sunny weekend morning and the papers have just arrived! There are several variations on the dish but below is the most well-known and widely used recipe using hollandaise sauce. Eggs Benedict is quick, easy and very yummy -- the perfect, lazy morning recipe.

Lazy eggs Benedict
Serving size 2
Ingredients:
3 tablespoon white wine vinegar
4 large free-range eggs
2 toasting muffins
2 tablespoons hollandaise sauce, hot
4 slices Parma ham
2 spring onions, finely chopped
Directions:
Bring 2 litres of water to the boil in a saucepan, then add the vinegar.
Break each egg into a mug.
Cut the muffins in half, toast them and warm some plates.
Swirl the vinegared water briskly and add an egg. Cook it for 2–3 mins, then remove with a slotted spoon.
Repeat with the other eggs, one at a time, remembering to swirl the water as you slide in each egg.
Spread some hollandaise sauce on each muffin, scrunch a slice of ham on top, then top with an egg.
Spoon over the remaining hollandaise, sprinkle with spring onions and serve at once.
More egg recipes
Egg recipes: Healthy ways to crack an egg
Simple egg drop soup
Spicy devilled eggs
More From SheKnows Explorer